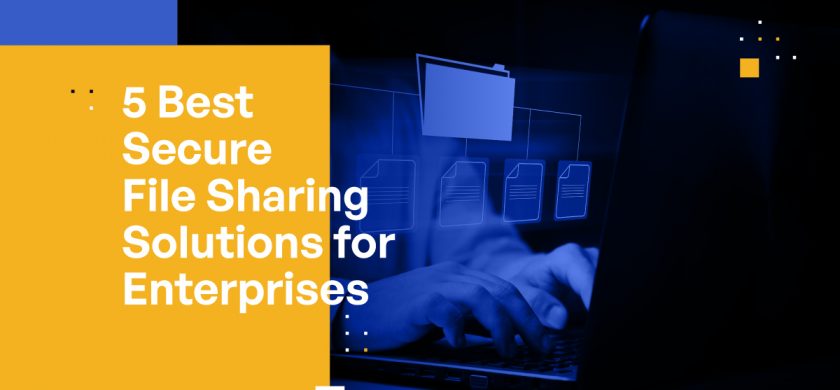 5 Best Secure File Sharing Solutions for Enterprises
Secure file sharing solutions are important for enterprises to securely exchange sensitive content between employees, customers, and partners. It is critical for enterprises to ensure that content is secure and accessible when needed, as well as stored safely to ensure compliance with regulatory standards. In this article, we will explore the best secure file sharing solutions for enterprises, examine their advantages and challenges, and discuss their importance for the enterprise.
What Is Secure File Sharing?
Secure file sharing refers to the process of sharing files or documents online in a secure manner. It involves the use of encryption and other security measures to protect the confidentiality, integrity, and availability of the content being shared. Secure file sharing tools, solutions, and platforms often have features such as access controls, authentication, and audit trails to ensure that only authorized users can access the files, and their actions can be traced in case there is any unauthorized activity. This enables organizations to share sensitive information with employees, partners, and customers without compromising security.
What Are Secure File Sharing Solutions?
Secure file sharing solutions are cloud-based software solutions that allow users to share and collaborate on documents, files, and other data securely. These solutions make it easy for users to securely access and share data between different devices, locations, and users, and protect data from unauthorized access. They also provide enhanced security measures, such as encryption, user authentication, access control, and advanced audit capabilities.
Why Are Secure File Sharing Solutions Important for Enterprises?
Secure file sharing solutions are essential for safe collaboration, data protection, and compliance with data privacy regulations. As digital supply chains expand and businesses rely more heavily on partners, secure file sharing solutions become even more essential for protecting sensitive content from being compromised. Secure file sharing solutions also provide a platform for sharing data and documents between internal and external users efficiently, enabling remote access and collaboration.
Challenges Faced by Enterprises in File Sharing
Due to the highly sensitive nature of content, which includes customer data, financial information, intellectual property, and personally identifiable information and protected health information (PII/PHI), enterprises are increasingly turning to secure file sharing solutions to prevent unauthorized access or disclosure. The challenge for many businesses lies in finding a solution that meets their specific security requirements, doesn't disrupt employee productivity, and finally, is compliant with relevant data privacy regulations, such as the European Union's General Data Protection Regulation (GDPR) or the California Consumer Privacy Act (CCPA). Additionally, governance, risk, and compliance (GRC) teams must consider the various features and capabilities of how a secure file sharing solution will protect content internally, including limiting access to sensitive content and monitoring, tracking, and reporting who accesses and shares sensitive content. Lastly, the cost of the solution must be taken into consideration, as it must provide value for the organization.
Factors to Consider When Choosing an Enterprise Secure File Sharing Solution
Choosing the right file sharing solution requires a thorough assessment of the solution's security capabilities and features, how they match up against the needs of the business, whether the solution meets relevant compliance regulations and standards, ease of use, and price. Let's take a closer look at these and other requirements organizations should consider when choosing an enterprise secure file sharing solution:
Security Capabilities
The primary factor to consider when choosing a secure file sharing solution for enterprises is the security capabilities of the system. Enterprises should ensure that the file sharing solution protects content from unauthorized internal and external users, prevents data leaks, and mitigates the risk of malware, phishing, and other cyberattacks. The following security features should be on an enterprise's short list for a secure file sharing solution:
Encryption
Encrypting file content in transit and at rest is essential for enterprises. Encryption ensures that files are digitally scrambled so hackers and intruders cannot access the content. The content remains secure even if it is intercepted or stolen. Enterprises should look for file sharing solutions that offer end-to-end encryption, meaning the files are encrypted from the sender's device through to the recipient's device without interruption.
Password Protection
Password protection is another crucial element of secure file sharing solutions. Passwords should be required for both system access and file access. Password controls should also support multi-factor authentication and require strong passwords that follow industry guidelines and best practices, like requiring numbers, letters, capitals, and symbols.
Access Control
Access control is one of the key components of file sharing security. Enterprises should look for a file sharing solution that enables access control settings, including setting permissions to files and folders, and expiry dates for when files and folders should no longer be accessible. This ensures that only the right people have access to the right content at the right time. Access controls should also include assigning certain privileges to certain users. For example a folder owner can have upload, download, and invitation capabilities as opposed to an external contractor who may only require view only or download capabilities.
Data Loss Prevention
Data loss prevention (DLP) is also an important factor to consider when choosing a secure file sharing solution, whether the solution offers the feature directly or integrates with best-of-breed DLP solutions. DLP allows enterprises to control what content can be shared externally, as well as alert administrators to any potential risk of data loss.
Audit Trails
Audit trails are critical for the tracking and monitoring of file sharing activities, namely who shares what file with whom and when. Audit trails record all file sharing activities, allowing enterprises to demonstrate regulatory compliance, respond to legal holds, and identify any risky behavior or patterns of malicious activity, especially in the event of a cybersecurity incident.
Regulatory Compliance
Enterprises must also consider the compliance capabilities of an enterprise file sharing solution. Depending on the business and its industry, certain laws and regulations may be applicable. Data security standards, like International Organization of Standardization (ISO) 27000 Standards, the Cybersecurity Maturity Model Certification (CMMC), the National Institute of Standards and Technology Cybersecurity Framework (NIST CSF), and other standards, should also be considered as they demonstrate to customers a business has put a premium on data privacy and data protection.
GDPR
The General Data Protection Regulation (GDPR) is a regulation in EU law that governs the processing of personal data. All file sharing solutions must meet the requirements of the GDPR in order to protect the personal data of customers who are EU citizens or residents.
PCI DSS
The Payment Card Industry Data Security Standard (PCI DSS) is a set of security standards that must be met in order to process, store, and transmit credit card information. Enterprises like e-commerce businesses should ensure that the file sharing solution meets the requirements of the PCI DSS.
HIPAA
The Health Insurance Portability and Accountability Act (HIPAA) is a U.S. law that sets standards for the security and privacy of protected health information (PHI), like patient forms, drug histories, health insurance information, doctors' notes, and X-rays. Enterprises in the healthcare industry, both healthcare providers and organizations that support healthcare providers, should demonstrate HIPAA compliance.
User Experience
In addition to the above, enterprises need to consider the user experience of a secure file sharing solution. The solution should be easy to use and should integrate seamlessly with existing systems. An enterprise secure file sharing solution should provide mobile access so users can access, send, and receive sensitive content remotely.
Ease of Use
The file sharing solution should be easy to use, with a simple, intuitive user interface. This ensures that users, even non-technical users, can access and upload files quickly and easily.
Integration With Existing Systems
The file sharing solution should integrate with existing enterprise systems that process or hold sensitive content, like customer relationship management (CRM), enterprise resource planning (ERP), and enterprise content management (ECM) applications. By integrating with these and other existing systems, users can quickly and efficiently access content from multiple sources and the content can be synced quickly and efficiently.
Mobile Access
With an increase in cloud-based content systems and employees working remotely, the ability to access and share content from any device or location is becoming increasingly important. To ensure users "anytime, anywhere" access to files, an enterprise file sharing solution should provide a mobile experience that mirrors an on-premises, desktop experience without sacrificing security, compliance, or ease of use. And if a mobile device is lost or stolen, the enterprise should be able to remotely wipe the device, removing all sensitive content stored.
Top Secure File Sharing Solutions for Enterprises
Businesses have an obligation to keep their data and systems secure, but with the increased need for collaboration between employees and trusted third parties, as well as an increase in cyberattacks, enterprise file sharing solutions can become a popular attack vector. To ensure the safe and secure exchange of files, organizations must carefully consider their investment in a secure file sharing solution. Some of the top secure file sharing solutions in the marketplace today (in no particular order) include:
1. Dropbox Business
Dropbox Business offers two-factor authentication, advanced audit logging, granular permissions, and a host of other security features. Files are securely stored in the cloud, allowing access from anywhere, anytime. Teams can easily share files with internal and external users while maintaining security and control. The platform is intuitive and easy to set up, making it ideal for enterprises of all sizes. It is also highly secure, with two-factor authentication and encryption at rest.
2. Google Drive Enterprise
Google Drive Enterprise is another cloud-based file sharing solution developed specifically to meet the needs of enterprises. This platform also offers two-factor authentication, advanced audit logging, granular permissions, remote device wiping, and a host of other features. It also comes with Google Suite, which includes storage, word processing, spreadsheet, and presentation software.
3. Microsoft OneDrive for Business
Microsoft OneDrive for Business is a secure file storage and sharing platform developed specifically for enterprises. It is integrated with Office 365, allowing users to access and share files from any device. It also offers a range of security features such as two-factor authentication, advanced audit logs, granular permissions, remote device wiping, and more.
4. Citrix ShareFile
Citrix ShareFile is an enterprise-grade file sharing and storage platform developed specifically for businesses. It offers two-factor authentication, advanced audit logging, granular permissions, remote device wiping, and a host of other features. It also provides encryption at rest and supports a range of file types.
5. Kiteworks Secure File Sharing
The Kiteworks Secure File Sharing solution is a robust platform that ensures secure file sharing and collaboration across multiple devices, platforms, and users. It allows enterprises to share their sensitive data and information securely, while ensuring high levels of protection against data breaches and cyberattacks. The platform is equipped with a range of advanced features, such as document tracking, watermarking, and encryption, which ensures that sensitive data remains protected at all times.
With Kiteworks, enterprises can easily manage and share their files, collaborating with colleagues in real time and accessing their data anytime, anywhere, and from any device. Additionally, the platform is highly scalable and customizable, which enables enterprises to tailor the solution to their specific needs, without compromising the security of their data.
Secure File Sharing via a Mobile Device
When it comes to secure file sharing from a mobile device, one of the best ways to ensure secure file sharing from a mobile device is to use a secure file sharing app. These apps offer end-to-end encryption, meaning that the files are protected at all stages, from the moment they leave your device to the moment they arrive at their destination. A secure file sharing mobile app has granular policy controls, limited file and folder access to authorized viewers, automatic AV and advanced persistent threat (APT) scans of all inbound files to prevent malware infections, and DLP scans on all outbound files to prevent content leakage.
Best Practices for Secure File Sharing
Best practices for secure file sharing that enterprises can adopt include:
Use a secure file sharing service: Choose a reputable and trustworthy file sharing service that uses encryption to keep your data secure.
Password-protect files: When sharing files, use password protection to ensure that only authorized parties can access them. Make sure to use a strong and unique password, and avoid sharing it with anyone else.
Use multi-factor authentication: Enable multi-factor authentication for your file sharing accounts. This ensures that if someone tries to access your account, they will need to provide a second form of authentication, such as a code sent to your phone.
Keep files up to date: Regularly update your files and remove any that are no longer needed. This reduces the risk of old and outdated files being compromised.
Limit access: Only share files with authorized parties and put in place controls to limit access to sensitive documents. For example, you can set permissions within your file sharing service to only allow certain people to view, edit, or download files.
Use encryption: Consider encrypting files before sharing them, especially if they contain sensitive information. Encryption changes the data so that it can only be read by someone with the proper decryption key.
Beware of phishing attacks: Scammers might try to trick you into sharing sensitive information through a phishing attack. Be wary of suspicious emails or messages and always verify the sender before sharing any files.
Use a virtual private network (VPN): If you're accessing your file sharing service from an unsecured network, such as a public Wi-Fi hotspot, consider using a VPN to encrypt your connection and keep your data safe.
Regularly review your sharing settings: Check your file sharing settings regularly to make sure they haven't been changed without your knowledge. This will help prevent unauthorized access to your files.
Educate employees: If you have employees that share files on behalf of your organization, make sure they are trained on proper file sharing practices and understand the importance of keeping sensitive data secure. Provide guidelines and protocols for sharing files and emphasize the risks associated with careless sharing practices.
What Sets Kiteworks Secure File Sharing Apart
The Kiteworks Private Content Network provides enterprise organizations in highly regulated industries a secure file sharing solution designed to enable the secure exchange of sensitive content and files between users, organizations, and systems while preserving intellectual property and ensuring regulatory compliance, data governance, and information security. With Kiteworks, enterprise users utilize a hardened virtual appliance to securely access, send, and receive sensitive content both internally and externally. Enterprises also have a variety of secure deployment options to choose from, including on-premises, private cloud, hybrid cloud, hosted, and FedRAMP virtual private cloud.
The Kiteworks Private Content Network also provides a comprehensive audit trail of all file activity, so administrators can track who sends which file to whom. Kiteworks also enables granular access permissions to sensitive content, ensuring only authorized users have access to confidential information. This can help ensure compliance with data governance policies and industry regulations.
To learn more about Kiteworks and how it helps enterprises protect sensitive content with a secure file sharing solution, schedule a custom demo today.
Additional Resources