Control and Demonstrate Where Content Is Accessed and Stored
Data Sovereignty
Employ data sovereignty best practices and demonstrate commitment to data privacy. Businesses that can enforce data sovereignty secure a distinct competitive advantage as data privacy laws become increasingly rigorous. With the Kiteworks enterprise content firewall, your enterprise can leverage the highest levels of security and control to comply with data sovereignty regulations.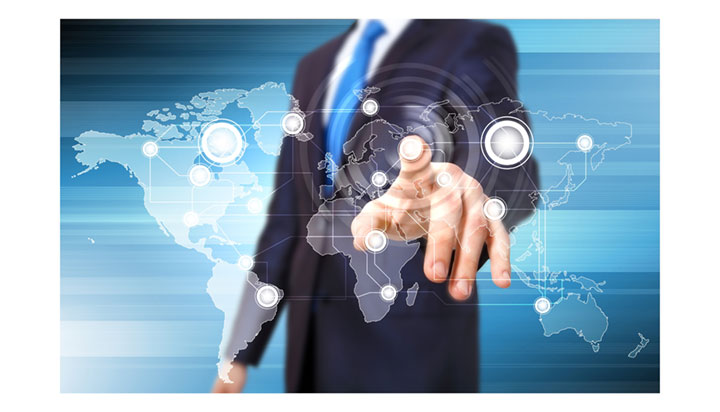 Ensure Customer Data Stays Where It Belongs
Data Sovereignty Configuration
Enforce geofencing by setting block-lists and allow-lists for IP address ranges
Configure a distributed system to store a user's data only in their home country
Configure data sovereignty and geofencing whether you deploy on-premise, on IaaS, Kiteworks-hosted, FedRAMP, or hybrid
Ensure privacy in hostile countries with sole ownership of encryption keys
Use an Kiteworks private cloud to prevent risky co-mingling of data with other customers
---
Know and Show Where Data is Stored
Data Sovereignty Reporting
Comprehensive picture of all sensitive information going in, through and out of the enterprise
All file activity logged, auditable and reportable to show compliance with data sovereignty laws
Visibility down to the file level, closest to the content
Audit trail to connected on-prem and cloud content sources
Know and demonstrate which files have passed or failed AV, DLP and ATP scans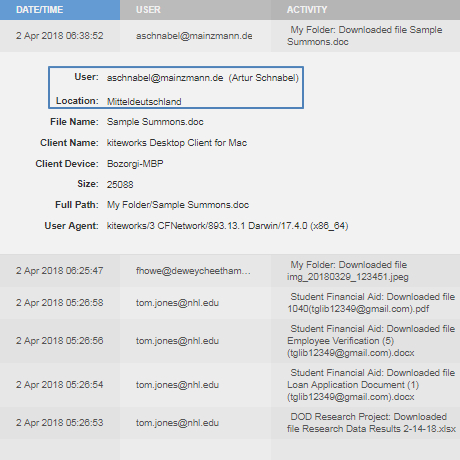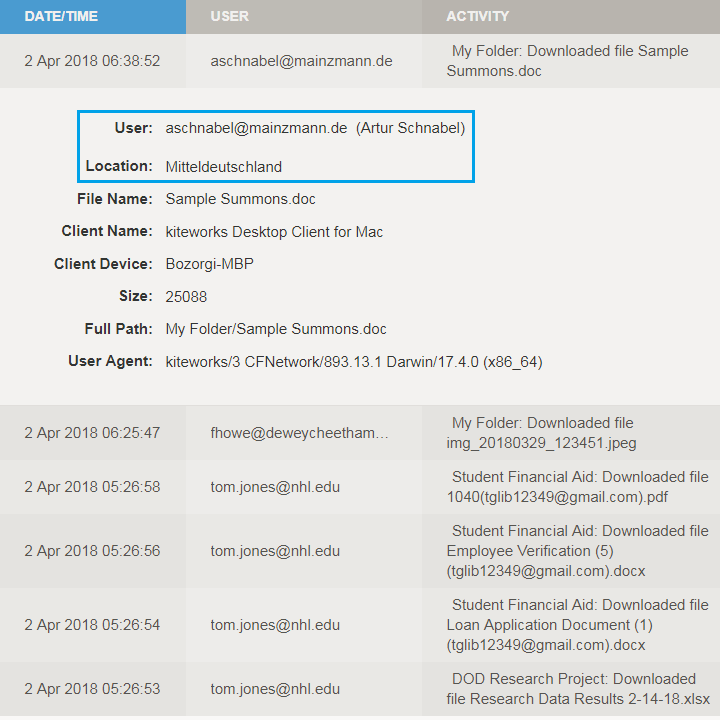 ---
Frequently Asked Questions
Data sovereignty is the concept that data is subject to the laws, regulatory requirements, and governmental actions in the nation or region in which it is created, collected, stored, or processed. It is a concept that underpins many pieces of international data privacy and security laws, recognizing the importance of maintaining the integrity of data that is generated and used within a particular jurisdiction. Data sovereignty also helps to protect an individual's right to privacy, as it sets clear boundaries on where and how their data can be used, and ensures that the data will be subject to the same level of protection regardless of where it is being processed, accessed, or stored.
Data sovereignty is closely related to the concept of data protection and privacy. When considering data sovereignty, organizations should consider how, and under whose laws, the data is being collected, stored, accessed, and processed. Additionally, organizations should consider if and how data can be transferred from one jurisdiction to another. Data sovereignty considerations also apply to the security of data and the organizations responsible for protecting it, including the levels of encryption used, access controls, and governance policies.
Data sovereignty helps organizations ensure that their customer data is handled in accordance with the local laws and regulations of the region or country in which it is created, collected, stored, or processed. It also helps to provide individuals with a level of assurance that their data is safeguarded and secure wherever it is stored.
Data sovereignty applies to all types of data, including personally identifiable information (PII), as well as other data related to the activities and operations of a business. It applies to data that is generated and stored within a given jurisdiction, regardless of what form the data takes (e.g., electronic or paper records). Additionally, data sovereignty may also apply to data that is transferred from one jurisdiction to another, and organizations should consider any data sovereignty implications prior to transferring any data.
Organizations must be aware of the laws, regulations, and governmental actions of the jurisdiction in which their data is created, collected, stored, and processed. They must ensure that their data is secured and compliant with the relevant laws, and they should ensure that they have the necessary processes, systems, and policies in place to protect the data and ensure that it is handled in accordance with data sovereignty requirements. Additionally, organizations must consider any data sovereignty implications prior to transferring any data