Supply Chain [Process, Management, and Risks]
The supply chain process has many moving parts and requires some type of supply chain management to create a productive network.
What is supply chain management? Supply chain management is the process of overseeing the chain, which includes looking at everything that could affect the output of the chain. The supply chain itself transforms raw materials into finished products for consumers.
What Is a Supply Chain?
A supply chain is the system of people, processes, technologies, and other resources that move goods and services from production to consumption. In the modern economy, the supply chain is the support infrastructure that ensures the movement of goods, services, and information to where they need to be.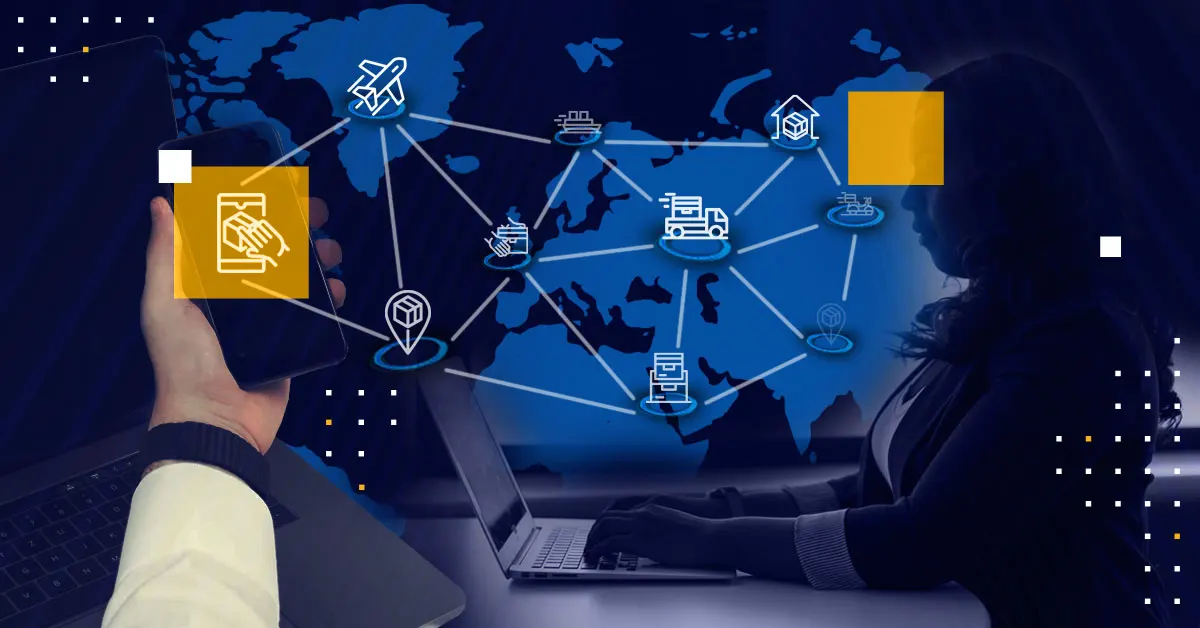 Supply chains change depending on the industry. However, there are some general similarities across these industries:
Raw Materials: This part of the chain is the basis for all supplies in the supply chain. Raw materials can include any material used to build goods and services, human capital, or information (in data-based supply chains). In many cases, "raw materials" can encompass several items.
Inbound Logistics: This stage covers inbound shipping, transporting materials, and labor to a point where goods and services are produced.
Manufacturing: Goods and products are built at warehouses.
Outbound Logistics: Goods are shipped to their final destination before consumption.
Use: Goods are sold or provided to consumers.
With these milestones in mind, experts deploy four critical practices:
Logistics: Logistics represent the planning and execution of processes controlling how resources are stored, transported, and acquired. Logistics are relevant across the entire chain, as different entities ship, receive, and store goods for various purposes.
Operations: People, machines, and organizations use the resources moved through the supply chain. Operations can encompass shipping (physical or digital) or manufacturing.
Marketing and Sales: Any product or service will most likely be marketed to customers and clients at the end of the chain. While seemingly superfluous to supply operations, marketing is typically critical for maintaining demand for such goods.
Services: The final outcome of the supply chain, typically the provision of goods and services as part of a retail, managed service, or B2B operation. Services can include sales, customer support, and maintenance.
Traditionally, the supply chain refers to physical goods' movement toward a destination. In modern definitions, however, different supply chains are divided into different approaches:
The Analog Supply Chain: The traditional notion of logistics—physical transportation, paper record-keeping, phone calls, and mailed reports. This can also include the people managing the movement of goods and services within that chain.
The Digital Supply Chain: The modern movement of goods and services occurs through digital systems using modern technologies like cloud computing, digital record-keeping, Internet-of-Things (IoT) devices, artificial intelligence, and machine learning.

Continuous Flow Models: Continuous flow models are designed for, as the name suggests, to maintain the flow of products and services through a process that does not change much over time. It is ideal for manufacturing commodities and supporting high-demand markets.

Fast Chain Models: These types of supply chains are designed to support rapidly shifting market trends. Manufacturers and merchants building and selling to new trends with little downtime between production cycles rely on fast chain models.

Flexible Models: These supply chains are intended to support on-and-off production, with periods of high demand followed by lulls or stoppages.
Typically, both types of technologies are represented in a supply chain. For example, physical shipping and warehouse logistics couple with machine learning tools and digital networks to optimize supply chain operations.
What Are the Goals and Risks of Supply Chain Management?
Supply management is the active management of activities up and down the supply chain to optimize processes, streamline difficult operations, and maximize the availability of goods and services for downstream customers.
Management of supply chains assumes two basic ideas:
Every product and service in the chain is a cumulative effort containing all milestones. Costs, time, and work hours are all part of a product or service reaching a customer.
Supply chain management should correct the misconception that the chain only consists of business-specific operations. This created disjointed networks of products and services without an overarching management plan.
To create optimized supply chains, logistics experts developed the discipline of management around five areas of emphasis:
Strategies: Like any complex system, managing a supply chain calls for experts to implement strategies that can address challenges, industry-specific requirements, and the needs of businesses and consumers measured against the realities of manufacturing and logistics.
Source: Where do goods and services come from? From what are they built or created? Without a source of raw materials or information, the actual supply chain cannot begin.
Manufacturing: The production of goods and services. At this stage, the name of the game is efficiency—how to optimize manufacturing processes, how to reduce costs for shipping, and how to eliminate waste.
Delivery and Logistics: Shipping, delivery, and maintenance of quality are critical parts of management across the entire chain. Logistics experts focus on optimizing travel routes, and depending on the product, developing efficient storage and delivery networks.
Service Systems: How are products managed and maintained? At this stage, communications and products may move back upstream for repair, replacement, or remediating manufacturing issues.
Supply chain management oversees all of these disparate parts of the supply chain. Often, management systems will utilize advanced technologies like artificial intelligence, machine learning, autonomous systems, IoT and smart devices, and big data platforms to support optimal logistics across the chain. Management experts can use insights from the optimization tools to create more robust and comprehensive strategies for better and more resilient supply chains.
Protect the Supply Chain With Secure Technology
The increasing digitization of logistics introduces new optimizations and new threats. One of the most important steps a business can take to protect its supply chain is to protect its IT systems with compliant, secure technology.
A platform like Kiteworks can help harden IT touchpoints with critical parts of the digital supply chain where sensitive content is communicated, including those connecting with legal entities, manufacturers, and government agencies.
To learn more about how Kiteworks supports the digital supply chain, schedule a custom-tailored demo.
Back to Risk & Compliance Glossary
SUBSCRIBE
Get email updates with our latest blogs news