Secure File Sharing Solutions [The Best of the Best]
Not all file sharing software was made equal, and using a free secure file sharing option can open your business up to breaches and attacks.
How do I share files securely? The best way to share files securely is to use a paid option that guarantees you have the appropriate features and meet compliance guidelines. While some options may be tantalizing, using proper software will better serve your business.
What Is Secure File Sharing and Why Is It Important for Business?
File sharing is at the heart of almost every activity on the internet, not to mention most data-driven business operations. This kind of transfer can include individual sharing between employees and massive batch file transfers for enterprise organizations supporting data storage and backup.
However, secure file sharing only works as well as its weakest link. While there are several security options for communication, only a few technologies fit the bill of a secure method to share data.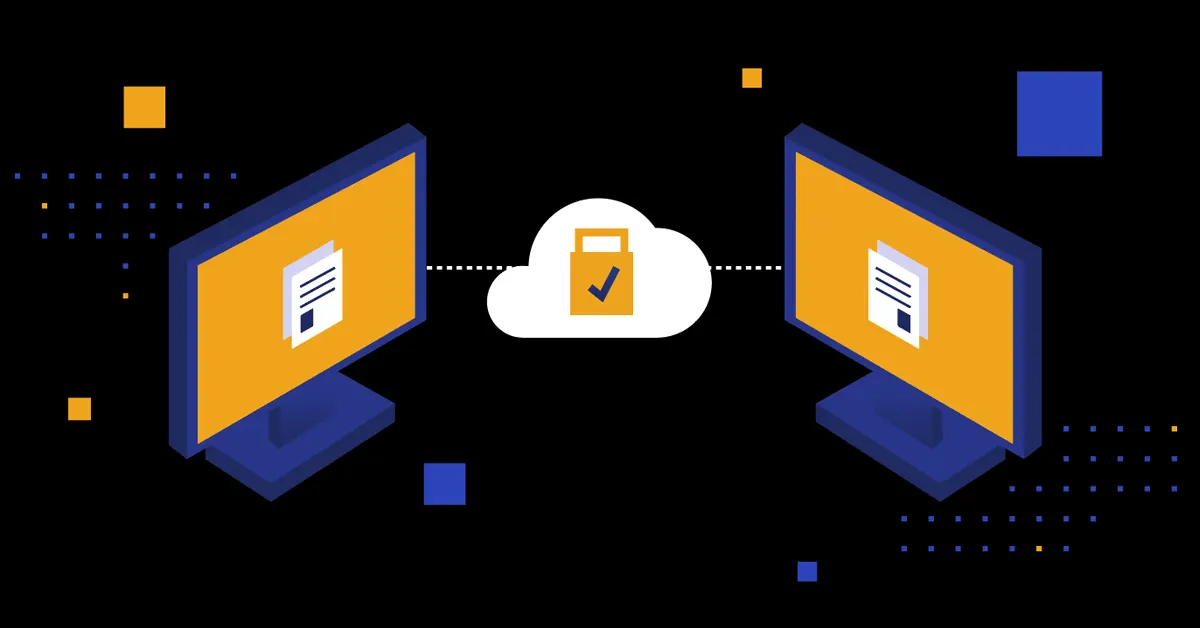 Consider some of the following information-sharing tools:
Email: Users in 2021 still use email as a file management and sharing solution. Email is ubiquitous, it's easy, and it's geared toward simple sharing. The problem is that email is often not the most secure option to share information, and it certainly isn't a purpose-built technology for such practices.
Removable media: USB drives, portable hard drives, and other forms of removable media are also still commonly used to share information. These aren't secured, and there is no efficiency or usability in the practice of passing around devices with four or five versions of the same file.
File transfer protocol: FTP is one of the oldest and most widely used file transfer methods globally, mainly because it is free, comes with nearly any operating system, and transfers data fast. However, FTP is inherently insecure, without encryption, making it unsuitable for most enterprise applications or compliance strategies.
Secure FTP: SFTP is the encrypted version of FTP, built using Secure Shell capabilities. SFTP is a standard for secure transfers. While it doesn't meet many compliance standards out of the box, it does employ encryption and can be configured to do so. It often serves as the baseline for many enterprise file transfer platforms.
Managed file transfer: MFT typically includes SFTP and other protocols and bundles them into comprehensive enterprise solutions that include cloud-based sharing, analytics, audit logging, automation, batch file processing, and compliance security management.
Peer-to-peer: P2P file sharing is a tricky process. The entire notion of P2P sharing is to avoid client-server models that can serve as bottlenecks for performance. P2P often uses a distributed sharing model, and technology like BitTorrent has revolutionized file sharing. However, it typically isn't secured and is not suitable for most enterprise file sharing applications.
Cloud storage and file sharing: Services like Dropbox and Google Drive revolutionized data sharing with cloud-based services that act like file systems, support file syncing to local devices, and make file and directory sharing simple.
What Should I Look for in Secure File Sharing?
Not all solutions are created equal. While consumer file sharing can be relatively straightforward, enterprise users and organizational sharing need to consider a few essential criteria:
Security and compliance: Enterprises most likely operate in a world where security and compliance are paramount. A sharing solution appropriate for such organizations would meet their needs by including the right levels of encryption and server security, privacy protections, tracking, controls, auditing, reporting, and more.
File sharing limits: Passing documents back and forth is one thing. But in many cases, users need to exchange multimedia files like videos or large CAD files. This also doesn't include any batch transfers they may want to implement. In particular, for many industries, large file transfers are a standard operating procedure and day-to-day function.
Advanced file transfer: A solid solution may also include multiple ways to transfer files. This includes user-friendly sharing interfaces, batch SFTP transfers, automated MFT transfers, etc.
Auditing logging: Along with compliance and security, audit logging is incredibly useful, if not necessary. Proper systems must log system and user events, provide forensics in case of system failure or breach, and create an audit trail for compliance or legal purposes.
Security and business analytics: Even more advanced solutions include implementing dashboards and analytics to help chief information security officers (CISOs) manage security and compliance and enable data managers to augment practices and technologies for better performance.
Security information and event management: An advanced form of logging and system event monitoring, SIEM is often seen as a powerful security tool required by many compliance frameworks. While not always necessary, having either a built-in SIEM or SIEM integration is critical for everything from security and compliance governance to rapid incident response.
Mobile sharing: A reliable and flexible solution should provide several data management and sharing options, including local sync and secure mobile file sharing through dedicated apps.

Should I Go With a Free Alternative?
The short answer is no. Free alternatives exist. However, more often than not, free tools target consumers without any real need for business features and limited capabilities like file transfer sizes.
Open-source platforms also exist—but these often rely on the organization to install, maintain, and update the software. Most secure file transfer solutions, particularly cloud-based, handle these difficult tasks.
Secure File Sharing Is an Enterprise Technology To Invest In
File sharing is one of the most fundamental activities for a business. Having a secure, compliant, and powerful file sharing solution provides businesses with the tools they need to work safely, securely, efficiently, and effectively without sacrificing their workflows or data governance policies.
Kiteworks secure file sharing empowers organizations to work with third parties across various secure channels, such as virtual data rooms (VDRs), collaboration, managed file transfer (MFT), and SFTP. By leveraging a common secure file sharing foundation with a single set of controls, governance policies, user management, and data source connectivity, organizations can reduce risk and cost. Core capabilities include co-authoring using seamless Microsoft Office integration, collaboration with any user, anywhere in the world, integration of email collaboration with shared folders, and more.
To learn more about the Kiteworks platform and its secure file sharing capabilities with comprehensive governance, compliance, and protection, visit Kiteworks' secure file sharing webpage. Also, get a personalized demo of the Kiteworks platform by requesting one today.
Back to Risk & Compliance Glossary
SUBSCRIBE
Get email updates with our latest blogs news