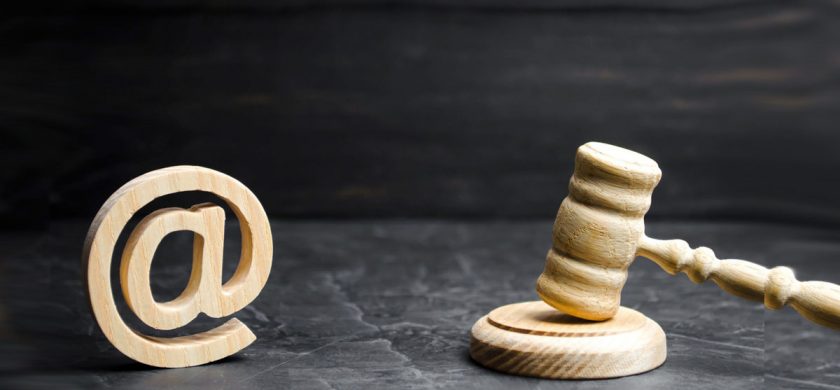 Email for Lawyers: Keep Client Communications Confidential
As a lawyer, you're responsible for keeping all email communications with your clients confidential, which is impossible without strong email security.
Lawyers must be careful about what they send to their clients and partners via email. Their email must be encrypted and in compliance with applicable data privacy regulations.
Can Lawyers Just Use Gmail?
No, lawyers should not use Gmail. The basic security features of a Gmail account will not be able to protect all your client's private data from possible breaches or hacks.

Why Should Lawyers Use Secure Email?
The American Bar Association (ABA) lays out specific rules for professional conduct relevant to lawyers. According to Rule 1.6 of the Model Rules of Professional Conduct, also known as the Client-Lawyer Relationship, a lawyer "shall not reveal information relating to the representation of the client unless the client gives consent.
While there are exemptions to this rule, a lawyer must take all relevant and reasonable steps to protect their clients' information, including personally identifiable information (PII) provided by, or to, the client. This obligation extends to all forms of communication, including email.
Most email platforms however don't encrypt, or properly encrypt, email bodies or attachments shared with third parties. Gmail, for example, uses TLS encryption, but this only helps when the client's provider uses the same type of encryption. Since most email providers don't offer encryption or at least the same standard of encryption, it's impossible to know for sure whether a message or its attachments arrive safely.
Law firms that invest in email security and compliance protect their clients both professionally and ethically. That's because:
Secure email for lawyers ensures all communications stay confidential: With a comprehensive email security approach, you can protect client correspondence, PII, PHI and other sensitive information. This is especially relevant if you serve clients in healthcare or financial services where you must meet industry-specific regulatory demands beyond ABA. Email and file sharing for law firms should always maintain confidentiality.
Secure email prevents data leaks: A leak, either from a phishing attack or an employee sending an email to the wrong John Smith, can compromise health information, payment information and any other data that and in turn jeopardize your client or your firm's reputation. Secure email helps prevent easily avoidable leaks from unencrypted messages.
Lawyers who do not follow basic protection protocols to protect client-attorney privilege risk penalties or disbarment from the ABA.
How Do I Send Secure Legal Emails?
Fortunately, there are several ways to share emails with clients:
Encryption: Encryption can fall under two primary categories. For example, all email is vulnerable both when it is "at-rest" (stored on a server) or "in-transit" (traveling to its destination). Encryption must protect that data in both stages to be considered safe.
Utilize a secure online portal with internal messaging: Alternatively, you can host your own messaging service where you have a server that secures your information and controls (and monitors) client access. While this option is much easier to manage than encryption, it also requires the user to manage their account, login, and check their messages.
Use secure email links and a dedicated server: With this arrangement, you create an account on an encrypted cloud server, store your confidential data there, and invite your clients to retrieve their messages using a dedicated link rather than enclosing sensitive data. Your client will simply need a username and a password to access those messages.
This option is not only the safest, but also the most practical way to share confidential data with clients. It allows you to protect privileged messages and attachments while monitoring access to them without impeding productivity because clients use their preferred email platform, like Microsoft Office 365 or Outlook.
Protecting Legal Communications with the Kiteworks Platform
If you need to ensure confidentiality in your email communications with clients, then you should utilize a proper email and file management system that can centralize protection.
The Kiteworks platform is available via dedicated on-premise, private, hybrid, or FedRAMP deployed system with capabilities that include secure email, file sharing, file transfer, managed file transfer, web forms, and application programming interface (API) protocols. The Kiteworks platform is built from the ground up with security in mind. The platform ensures data privacy and demonstrates compliance with rigorous data privacy regulations with features and capabilities like:
Secure email links: Our platform allows you to send secure email links via general-purpose email that direct users to an encrypted server. Recipients must authenticate themselves before they can retrieve the information on the server. When lawyers send a link rather than a file, it not only eliminates the risk of sending confidential information to the wrong recipient, but also eliminates file size limitations.
Compliant cloud servers: The Kiteworks platform is available on dedicated private, hybrid, or FedRAMP virtual private cloud servers. As a result, your data isn't sharing hard drive space with other users. Additionally, we can configure our servers and services around top national and international compliance regulations in healthcare, government and defense, finance, and more.
Reporting and audit trails: An audit trail becomes critically important in the event of a breach or eDiscovery process. The Kiteworks platform provides an immutable audit trail for diagnostics and compliance. Our platform also includes a CISO Dashboard to help your IT staff track data access and usage.
If you want to learn more about sensitive content communications for lawyers, schedule a custom demo today.