Manufacturing Extension Partnership (MEP)
Manufacturing Extension Partnership (MEP) is an essential driving force for small and medium-sized manufacturers. As a nationwide network managed by the National Institute of Standards and Technology (NIST), MEP empowers manufacturers to amplify their production capabilities, streamline processes, and incorporate advanced technologies. The ultimate goal is to boost their competitive edge on a global scale, ensuring a robust economy and secure employment opportunities.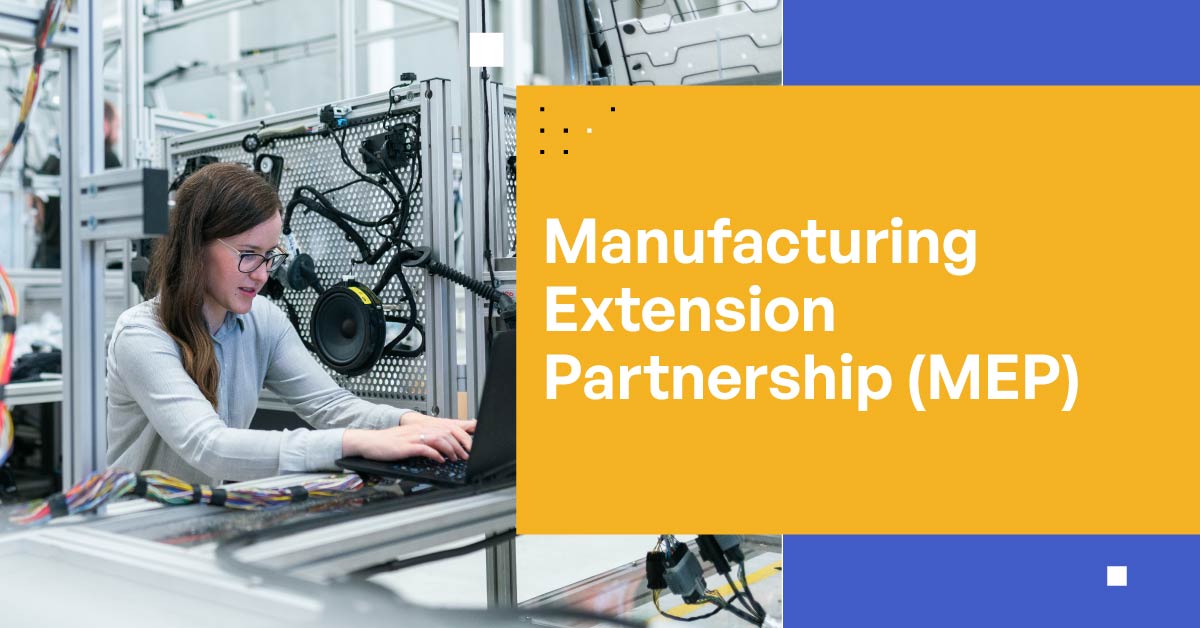 Manufacturing Extension Partnership (MEP): Origin
MEP was introduced in 1988 with a clear mandate to enhance the competitiveness of American manufacturers by fostering technological innovation and workforce development. Since its inception, MEP has transformed into a vital pillar for the manufacturing industry across the United States. Today, it offers a broad spectrum of services, from process enhancement and workforce training to supply chain optimization and business strategy formulation.
MEP has grown to the point that it has successfully anchored the transformation of numerous businesses through its customized solutions tailored to their unique challenges and requirements. This highly personalized approach to business improvement has produced remarkable results, fueling economic growth and job creation.
MEP is not confined to the manufacturing sector alone. Its influence extends far beyond, touching multiple economic sectors, including manufacturing, retail, finance, education, and the legal sector. Each industry benefits significantly from MEP's resources, training, and support.
MEP and the Manufacturing Sector: Enhancing Capabilities
The manufacturing sector remains the primary beneficiary of MEP's initiatives. Manufacturers gain valuable insights into advanced production technologies, lean manufacturing techniques, and process optimization methods through MEP's resources. These resources enable manufacturers to boost efficiency, reduce waste, and improve product quality. The result is a more competitive American manufacturing sector capable of producing high-quality goods for local and global markets.
MEP and the Retail Industry: Identifying Efficiencies
The retail industry also reaps significant benefits from MEP's services. MEP assists retailers in implementing advanced supply chain management techniques and technologies, ensuring efficient and cost-effective operations. It also provides valuable training in customer service and retail management, helping businesses enhance their customer experience and improve their bottom line.
MEP and the Finance Sector: Enabling Innovation
In the finance sector, MEP offers guidance on embracing fintech innovations and ensuring compliance with evolving regulations. By promoting secure file sharing practices and robust data privacy measures, for example, MEP helps financial institutions protect sensitive customer information, fostering trust and ensuring regulatory compliance.
MEP and the Education Sector: Elevating Standards
In the education sector, MEP aids in implementing cutting-edge instructional technologies and improving educational content delivery. Through training programs, MEP helps educators enhance their teaching skills and improve learning outcomes. Additionally, by encouraging secure email communications and file attachments, MEP ensures that sensitive student information remains protected.
MEP and the Legal Sector: Streamlining Processes
For the legal sector, MEP provides resources that help streamline case management, document handling, and legal research. By promoting secure file sharing and email communications, MEP ensures the confidentiality of sensitive legal information. Its services help law firms improve their efficiency, reduce costs, and offer better services to their clients.
Manufacturing Extension Partnership: Growth Drivers
MEP acts as a critical catalyst for growth within the manufacturing sector by providing bespoke services. Through its vast network of trusted advisors and technical experts, MEP is well-positioned to guide businesses toward success.
Streamlined Email Communications and File Attachments
MEP utilizes email communications and file attachments as vital tools to foster innovation. By sharing a wealth of resources, training materials, and case studies, MEP keeps manufacturers updated with the latest industry trends and cultivates a culture of continuous learning and improvement.
Content Relevance and Prompt Delivery
MEP ensures that all email content dispatched to manufacturers is timely and relevant. Manufacturers are equipped with actionable insights and tools, enabling them to respond and adapt swiftly, thereby improving the efficiency and competitiveness of their operations. The strategic use of file attachments guarantees that manufacturers have easy, immediate access to the required resources.
Data Privacy: A Key Responsibility of the Manufacturing Extension Partnership
Data privacy is an escalating concern for many manufacturers in today's digital era. MEP provides invaluable guidance in this area, assisting businesses with adopting advanced manufacturing technologies and implementing robust data security measures.
MEP and the Cybersecurity Maturity Model Certification (CMMC)
A significant aspect of MEP's contribution is guiding Cybersecurity Maturity Model Certification (CMMC) compliance, which requires manufacturers to ensure their cyber environments meet the Department of Defense's (DoD) cybersecurity standards. This includes training manufacturers to securely use email and file attachments and protecting sensitive defense information.
MEP and CMMC Requirements
MEP plays a critical role in helping manufacturers comprehend the intricate requirements listed by the CMMC. They offer comprehensive resources and training materials to educate manufacturers about the different levels of CMMC, the specific controls needed at each level, and how to implement them effectively.
MEP's Role in Enabling CMMC Compliance and Reducing Risk
Manufacturers in the Defense Industrial Base (DIB) can attain CMMC compliance with MEP's guidance, ensuring they adhere to the DoD's stringent cybersecurity standards. This reduces the risk of cyber threats and protects manufacturers from potential penalties and loss of contracts due to noncompliance.
MEP and Strengthening Defense Supply Chain Security
By assisting manufacturers in achieving CMMC compliance, MEP indirectly strengthens the defense supply chain's overall security. Ensuring that all contractors in the defense supply chain adhere to high cybersecurity standards reduces the risk of cyber breaches, thereby protecting sensitive defense information.
MEP and Championing Secure File Sharing Practices
MEP assists manufacturers in establishing secure file sharing practices, which are paramount for protecting sensitive information. MEP's resources include training staff on best email usage practices, implementing advanced security measures for file attachments, and arming manufacturers with the knowledge and tools to safeguard their digital operations.
Realizing Cost Reduction Through Secure File Sharing
MEP's emphasis on secure file sharing and data privacy has significantly reduced business costs. By mitigating the risk of data breaches, manufacturers can bypass potential regulatory fines, reputational damage, and the resulting financial implications.
MEP and Monetizing Enhanced Data Security
MEP's guidance on data security provides manufacturers with substantial financial benefits. Manufacturers can protect their trade secrets and proprietary processes by preventing unauthorized access to confidential information in emails and file attachments, thus preserving their competitive advantage.
MEP and Efficient Operations Through Organized File Management
MEP's training in organized file management provides a significant advantage to businesses. The ability to quickly locate, access, and share files through secure methods can significantly improve operational efficiency. This efficiency, in turn, translates into reduced operating costs and increased profitability.
MEP and Minimizing Operational Downtime
By following MEP's guidance on secure file sharing and data security, manufacturers can effectively avoid system downtime caused by cyberattacks. With business operations running smoothly without interruption, manufacturers can maintain optimal productivity, leading to cost savings and improved revenue.
MEP and Streamlining Compliance With Data Protection Regulations
MEP's focus on data privacy protects businesses from breaches but also assists them in complying with data protection regulations such as the General Data Protection Regulation (GDPR). By providing resources and guidance on these regulations, MEP helps businesses avoid potential noncompliance fines, further reducing operational costs.
MEP and Facilitating a Secure and Efficient Remote Work Environment
MEP's guidance on secure file sharing becomes even more crucial in a world increasingly embracing remote work. By implementing secure email communications and file sharing practices, businesses can maintain a remote workforce without compromising security. This approach reduces costs associated with physical office spaces and resources.
The Role of MEP in the Post-pandemic Landscape
In the aftermath of the global pandemic, the role of MEP has become even more critical. Manufacturers face various challenges, including disrupted supply chains and drastic demand shifts. MEP is poised to help businesses navigate this new reality, ensuring their resilience and growth.
MEP and the Growing Relevance of Email Communication
With a growing global remote workforce, the significance of effective and secure email communication has never been higher. MEP's ability to deliver guidance, share training materials, and provide timely updates is crucial in helping businesses navigate these challenging times.
MEP and Secure File Sharing: A Key to Future Preparedness
As businesses increasingly depend on cloud-based tools, secure file sharing remains an area of focus. MEP's data security and privacy guidance will become even more essential, preparing businesses for an increasingly digital future.
MEP and Reshaping Supply Chain Management for Resilience
MEP's guidance on effective supply chain management becomes incredibly crucial in the face of disrupted supply chains. Their strategies and resources assist manufacturers in building more resilient supply chains and ensuring continuity of operations even in the face of unexpected disruptions.
MEP and Adapting to Demand Shifts Through Business Agility
The pandemic has caused significant shifts in market demands. To address these changes, businesses need to be agile, adapting quickly to changing market conditions. MEP's role in fostering business agility through training programs and resources will be vital in this evolving landscape.
Kiteworks Helps Manufacturing Organizations Share Sensitive Content Securely and in Adherence With MEP
The Kiteworks Private Content Network helps manufacturing organizations securely collaborate on sensitive manufacturing data and intellectual property, ensuring data security and compliance.
Kiteworks enables the secure exchange of sensitive data, project updates, and other confidential information via email, file sharing, managed file transfer, or web forms.
Supported by a hardened virtual appliance, automated end-to-end encryption, secure deployment options, granular access controls, and multi-factor authentication, Kiteworks empowers manufacturing organizations to control, protect, see, and track every file, in compliance with several data privacy regulations and standards like the General Data Protection Regulation (GDPR), the Health Insurance Portability and Accountability Act (HIPAA), and the California Consumer Privacy Act (CCPA) as well as NIST 800-171, the International Organization of Standardization 27000 Standards (ISO 27000), and Good Manufacturing Processes (GmP).
To learn more about Kiteworks and how it can help protect your sensitive manufacturing content, schedule a custom demo today.
Back to Risk & Compliance Glossary
SUBSCRIBE
Get email updates with our latest blogs news