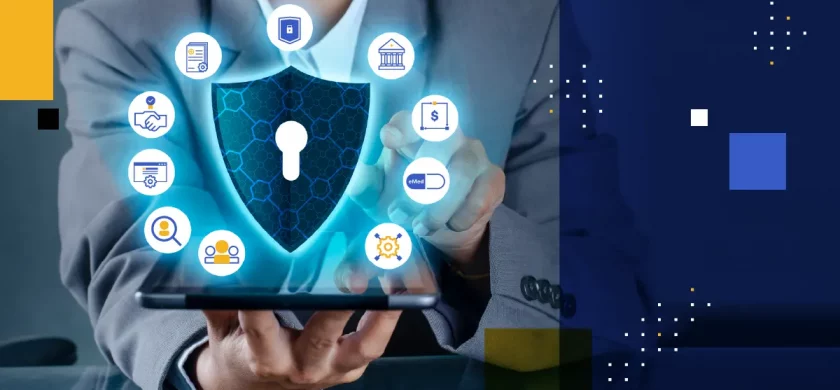 Extend SWIFT-like Data Sharing and Transfers Across Industries and Use Cases With a Private Content Network
Any business or person conducting international banking transfers is familiar with the SWIFT (Society for Worldwide Interbank Financial Telecommunication) bank messaging system that provides a unified platform for ensuring that banking transactions are secure, reliable, and available across international borders. The entire world became experts in SWIFT last week when numerous countries took actions to cut off Russian banks from using SWIFT to sanction the Putin-led regime for its invasion of Ukraine.
Replicating SWIFT Across Industries and Content Communications Use Cases
Any business conducting international banking transfers is familiar with the SWIFT (Society for Worldwide Interbank Financial Telecommunication) bank messaging system that provides a unified platform for ensuring that banking transactions are secure, reliable, and available across international borders. The entire world became experts in SWIFT last week when numerous countries took actions to cut off Russian banks from using SWIFT to sanction the Putin-led regime for its invasion of Ukraine. SWIFT allows a bank in one country to receive payment from a different bank in another country—without needing to worry about system differences or security gaps that may disrupt the transaction. In short, SWIFT ensures a safe conduit for banking across disparate territories and technologies.
SWIFT's system is a very popular and effective solution, but it is applicable to one industry segment and to one use case within that sector. Organizations from any industry sector can create private content networks (PCNs) for any number of use cases consisting of broad governance and security controls involving diverse communication channels.
What Is a Private Content Network?
A PCN is a dedicated system of internal and external content communications that ensures security and regulatory compliance for all sensitive content communications.
It addresses numerous persistent problems facing organizations in healthcare, financial services, legal, government, manufacturing, and more (see Table 1). These industries often struggle with disparate content communication systems and tools that provide direct access to the network and systems of record. To complicate this issue even further, they also often rely on multiple third parties who use these disparate systems to send, share, receive, and save content. As a result, it becomes nearly impossible to track content in transit or at rest. There's limited control over who can access what content, when. And any unencrypted content can easily become exposed to malicious access.
Table 1. Governing and securing sensitive content communications in today's modern enterprise and government agency is nearly impossible due to disparate and deficient controls and tracking.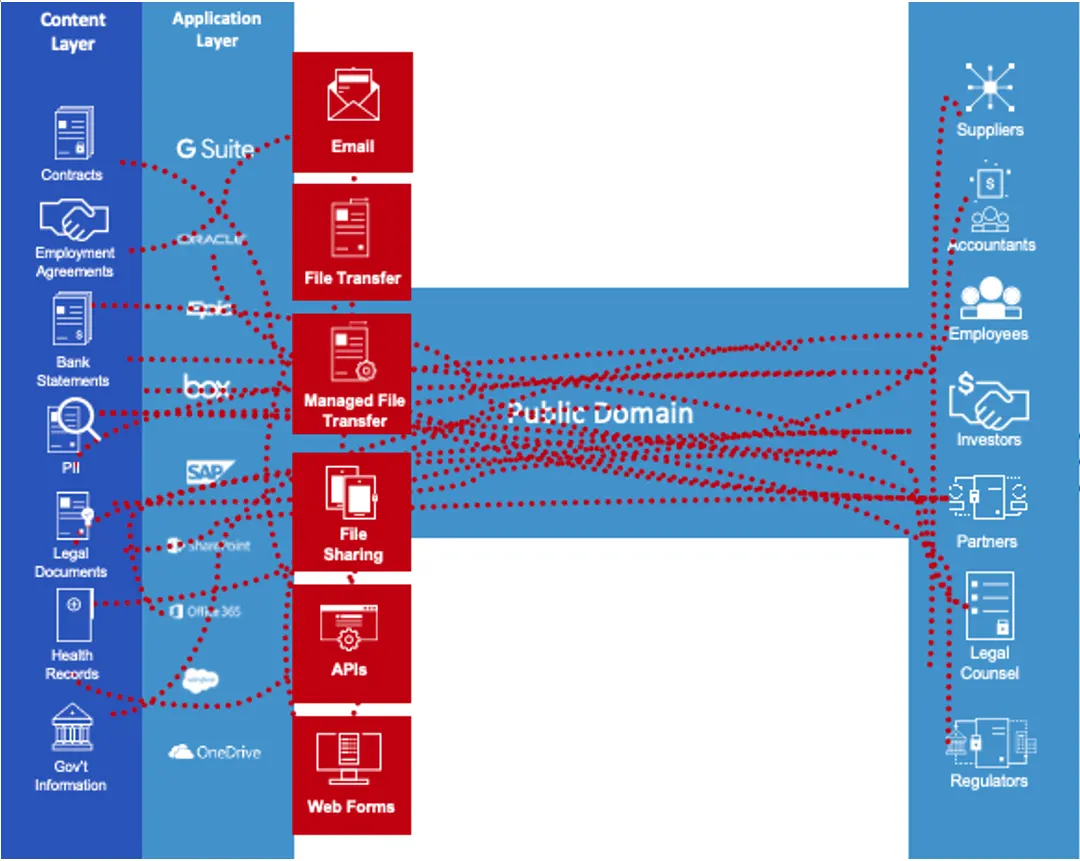 A PCN forms a layer of protection across all the channels and protocols that an organization needs to protect—including email, file sharing, file transfer and automation, automated application programming interface (API) calls, and web forms. And this is precisely the kind of solution that Kiteworks offers.
Kiteworks establishes a PCN system that overlays all the critical communication channels already in place across an organization. Kiteworks enables organizations to:
Unify secure content communication technologies and standardize audit trails into a single, centralized system
Track metadata, content, user, and system activity to boost security operations center (SOC) effectiveness, report on third-party access, and simplify compliance reporting
Control content access and functional rules matched to risk profiles and user roles
Secure content at rest and in motion using encryption to protect against unintended exposure of sensitive information
Kiteworks empowers organizations to govern and protect their sensitive content while always keeping it private. This privacy even includes us. Your content always remains in your sole control (see Table 2).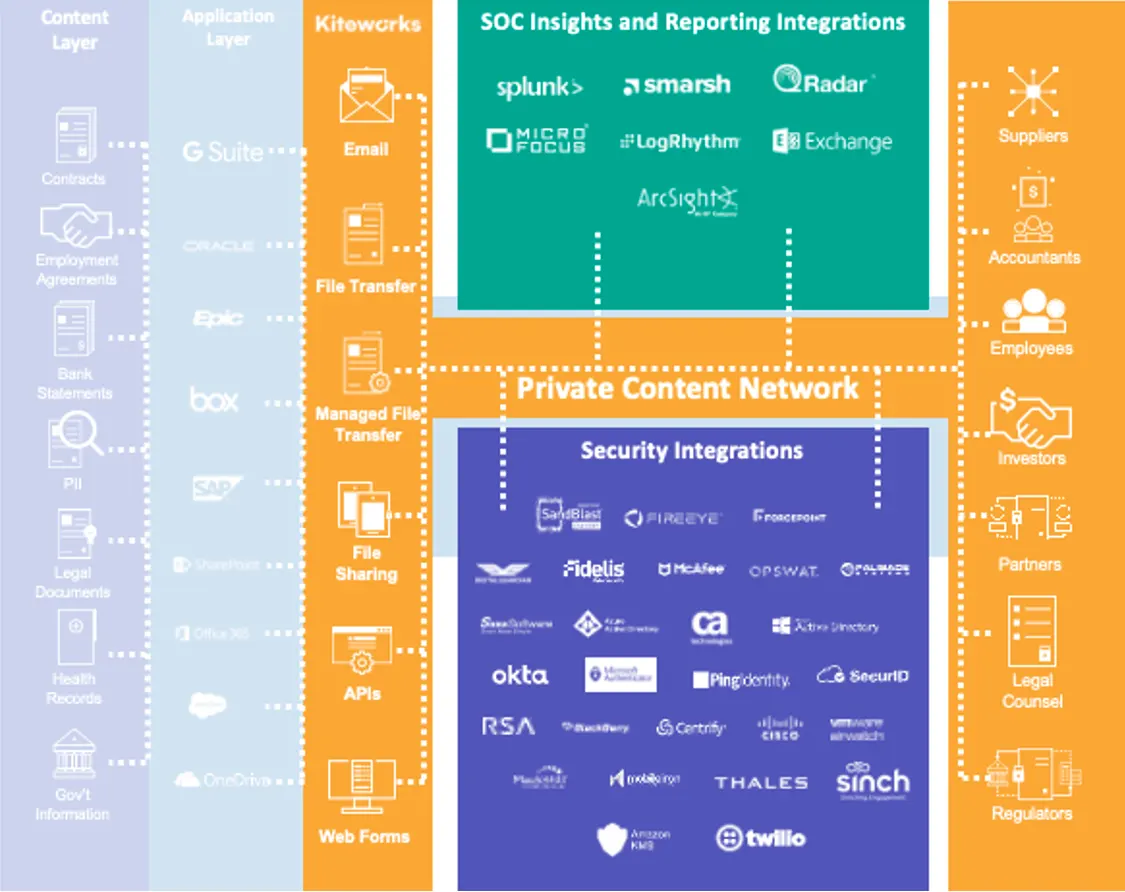 Table 2. Kiteworks is a dedicated PCN of internal and external digital communications that ensures privacy protection and compliance of an organization's most sensitive information.
Bigger Than Banking—Kiteworks Secures Sensitive Content Communications Across Multiple Industries
Unlike the highly specialized SWIFT system, Kiteworks offers PCN capabilities that natively work within multiple verticals and regulatory contexts. In addition to helping ensure privacy in support of a wide range of industry-specific regulations, Kiteworks also helps improve office productivity because it automatically tracks and simplifies email compliance, file sharing, managed file transfer (MFT) automation, web forms, Secure File Transfer Protocol (SFTP), and communication channels.
Kiteworks can provide PCNs across numerous industries, including:
Healthcare. Healthcare providers can protect the protected health information (PHI) of their patients with Kiteworks while meeting strict privacy regulations like HIPAA in the U.S., PIPEDA in Canada, and the PCEHR Act in Australia. Kiteworks supports health organizations with things like:
Sending PHI to regulators, insurers, and providers in compliance with privacy requirements
Preventing information leaks and breaches that harm patients and reputation
Securely automating statement delivery to patients, insurance providers, and regulators
Financial Services. Kiteworks helps financial service providers (e.g., banks, investment firms, insurance companies) protect the privacy of their customers' financial and personally identifiable information (PII) while automatically helping maintain compliance with rigorous privacy rules such as the EU's General Data Protection Regulation (GDPR) and the California Consumer Privacy Act (CCPA). Kiteworks solves critical needs for financial services institutions such as:
Securely sharing customer financial information with other banks to syndicate large commercial loans
Protecting personally identifiable information (PII) you send to outsource firms for non-core tasks like mortgage servicing or collections
Consolidating SFTP communications in a secure, scalable deployment, with unified governance and administration
Legal. Legal offices and law enforcement organizations around the world use Kiteworks to communicate evidence and share documents with courts, counsel, and clients—while maintaining strict confidentiality and compliance requirements. This may include:
Protecting confidential and/or material non-public information (MNPI) communications between counsel, clients, courts, opposing counsel, and law enforcement
Ensuring non-repudiation by proving source, delivery, and receipt of legal communications with an immutable audit trail
Transferring massive evidence files, such as terabyte body cam videos
Government. Kiteworks helps government agencies at all levels and in all territories around the world protect sensitive content such as controlled unclassified information (CUI) and comply with strict regulations like FIPS, FISMA, IRAP, ITAR in the U.S.; the EU's GDPR; and Singapore's Personal Data Protection Act (PDPA). It also supports broader federal agendas, such as U.S. Executive Order 14028 for Improving the Nation's Cybersecurity. Officials can apply these capabilities to official tasks such as:
Accelerating agency adoption of Cloud Smart solutions on FedRAMP-authorized infrastructure
Protecting sensitive file transfers with strong governance controls and comprehensive logging
Maintaining the detailed audit trails and granular controls needed to meet regulations on private content like census and human resources data
Pharmaceutical. Kiteworks helps pharmaceutical and biotech organizations protect the intellectual property (IP) that they need to share internally or exchange with contracted research organizations (CROs) and other partners—all while meeting tough regulations such as HIPAA or GxP standards.
Ensuring compliance of clinical trial data exchanged with CROs and physicians
Securely transferring DNA genome sequences and other large data sets
Securing immutable manufacturing quality data transfers to comply with FDA 21 CFR Part 11
Manufacturing. Manufacturers can secure IP and other sensitive content as it's shared internally or across the supply chain. It also helps manufacturers ensure contractual compliance with strict regulations like the U.S. Department of Defense's Cybersecurity Maturity Model Certification (CMMC) framework. Kiteworks enables manufacturers by:
Protecting proprietary designs, plans, financial documents, marketing content, and contracts from theft by competitors
Securely exchanging orders, schedules, invoices, designs, and other information with supply chain partners—including large files such as terabyte-size CAD
Ensuring secure and immutable transfers of manufacturing quality data across Purdue Model levels
Simplifying and Securing Your Communications With Kiteworks
In the same way that banks use SWIFT for reliable international transactions, practically every industry needs their own unified system for private and compliant communication channels. A PCN solution like Kiteworks offers single-pane-of-glass visibility and control across all the pathways sensitive content might take in, out, and across your organization. It gives you a lock-down solution for privacy—where you (and only you) hold the keys.
Across different industries, regions, and regulatory requirements—customers are choosing the Kiteworks platform for their specific content governance, compliance, and protection needs.
This brochure can tell you more about how Kiteworks can help simplify and secure your communications.