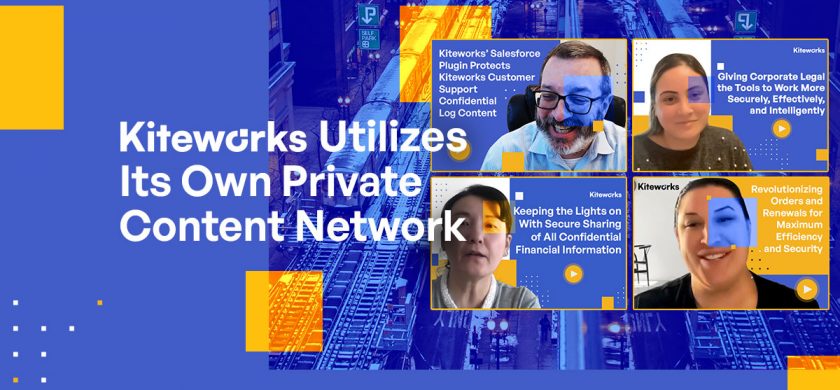 Kiteworks on Kiteworks: How Kiteworks Employees Use the Kiteworks Private Content Network Every Day
There's an old saying "never trust a skinny chef." Why not? Chances are that his cooking isn't very good. Similarly, if a business doesn't use its own product, especially a product that protects sensitive information, chances are the product isn't very good either.
Well, we don't just sell Kiteworks to customers for sensitive content privacy and regulatory compliance. We actually use it, too! With that in mind, I interviewed some of our colleagues in Legal, Customer Support, Finance, Sales, and Fulfillment to learn how they use Kiteworks in their daily workflows. It was very surprising to discover the extent to which Kiteworks is used. And while their workflows vary, security, visibility, compliance, and efficiency were the common drivers behind their decision to use Kiteworks.
Here is a snapshot of how these departments use Kiteworks.
Kiteworks for Corporate Legal: Giving Corporate Legal the Tools to Work More Securely, Effectively, and Intelligently
When a customer requests to review Kiteworks' security compliance with SOC 2, the Information Security Registered Assessors Program (IRAP), FedRAMP, and other compliance regulations, Mehreen Mir, our Contracts Manager, leverages Kiteworks Secure File Sharing and secure shared folders. She creates a folder in Kiteworks, uploads the requested documents, provides customer collaborators permission to access the documents, and then notifies customers that the documents are available for viewing and downloading. Mehreen prefers to use secure shared folders for this use case so she can monitor who accesses the documents and when they download them.
Mehreen also uses Kiteworks Secure Email to collaborate on contracts with customers, vendors, and other trusted partners. This plays an important role in the company's third-party risk management strategy. She only trusts Kiteworks Secure Email, rather than traditional email, to share these sensitive documents because they contain customer data, special terms and conditions, Kiteworks intellectual property, and other sensitive information. With Kiteworks, documents are encrypted in transit and at rest and can only be accessed by multi-factor authentication, ensuring that only the intended recipient can read the email and sensitive attachments.
To learn more about how Kiteworks' Corporate Legal department uses Kiteworks, read the case study.
Kiteworks for Corporate Finance: Keeping the Lights on With Secure Sharing of Confidential Financial Information
Our Finance department is a Kiteworks power user. The Accounts Receivable team sends invoices via the Kiteworks Secure Outlook plugin to protect our banking information. Kiteworks operates five business entities and a consolidated holding company that equates to six books and six tax filings. Our controller uploads financial documents into Kiteworks' Secure Shared Folders and gives the appropriate tax advisor access to the appropriate folder to access those documents. The tax advisors process the tax returns, upload them back into the same folders, and notify our controller.
But this is just one of several use cases for our Finance department. For example, Kiteworks' Payroll Administrator similarly uses Kiteworks Secure File Sharing to share employees' personally identifiable information (PII) with a global network of payroll providers. Kiteworks' Accounts Receivable Manager sends invoices to global customers utilizing the Kiteworks Secure Outlook plugin to protect Kiteworks' banking information, which is included in the invoice. She can even see who downloaded the invoice and when to ensure payments are made in a timely fashion. Finally, Kiteworks' Financial Planning and Analysis (FP&A) Manager posts biweekly budget and cash forecasts to a secure folder that our CEO accesses and reviews prior to their meetings.
To learn more about how Kiteworks' Corporate Finance department uses Kiteworks, read the case study.
Kiteworks for Sales: Demonstrating Kiteworks' Value One Sales Opportunity at a Time
Our global Sales organization, which includes regional vice presidents and general managers, sales representatives, sales engineers, and channel managers, uses Kiteworks to share any customer-specific information: signed nondisclosure agreements (NDAs), sales presentations, quotes, contracts, and more. By using Kiteworks for all customer and partner communications, the Sales team not only demonstrates Kiteworks' value, but it also safeguards our own intellectual property. Specifically, we need to protect the sensitive information we share with customers, including security certifications, pricing, Requests for Proposals, our tax identification number, security assessment questionnaires, and more. Using Kiteworks for customer communications is also a great way for customers to see just how easy the platform is to use.
To learn more about how Kiteworks' Sales department uses Kiteworks, read the case study.
Kiteworks for Fulfillment and Renewals: Revolutionizing Orders and Renewals for Maximum Efficiency and Security
Our Fulfillment team, led by Marissa Kandarian, Director of Worldwide Orders and Renewals, leverages an integration with our CPQ system and license server to generate and send software licenses and invoices. This all occurs via Kiteworks Secure Email within minutes of processing an order. Since adopting Kiteworks, the time to process and send licenses and invoices dropped from 20 minutes to less than five. Marissa notes, even our customers are amazed by the quick turnaround.
Renewals are processed and delivered the same way as new orders. Renewals must be secured because every email contains an invoice with wire instructions that include our bank account number. Kiteworks' Read Receipt capability is an invaluable feature for renewals. Marissa and her team can see who specifically has downloaded an invoice, even when the invoice is sent to an email alias like accountspayable@customer.com. This helps the team ensure customers remit payment on time.
To learn more about how Kiteworks' Fulfillment organization uses Kiteworks, read the case study.
Kiteworks for Customer Support: Empowering Customer Support Organization to Protect Customers' Confidential Log Content
Frank Balonis, Kiteworks' CISO and Senior Vice President of Operations, manages 25 global support engineers, who provide technical support for Kiteworks' global customer base. The Kiteworks Salesforce plugin allows customers to upload system information and configuration settings for analysis and troubleshooting through Salesforce but it's stored in, and protected by, Kiteworks. The Kiteworks support engineer limits access privileges to the system administrator and any other Kiteworks support engineer involved with the case.
Support engineers also utilize Kiteworks Secure Email to send customers debugging instructions, software patches, and offline updates, which can exceed 5 GB in size. We provide better customer service and increase install rates when we send updates to customers directly, instead of asking them to come to Kiteworks and download these updates.
To learn more about how Kiteworks' Customer Support organization uses Kiteworks, read the case study.
The Power of the Kiteworks Private Content Network for Zero-trust Privacy Protection and Compliance
The Kiteworks platform, as you can see, is pivotal to our business. The Kiteworks-enabled Private Content Networksignificantly enhances risk and content management by protecting not only our PII and intellectual property (IP), but also our customers' private data. By using Kiteworks, we also demonstrate regulatory compliance on all our sensitive content communications. If you or your organization sends, shares, receives, or saves sensitive content, you should govern and protect it with Kiteworks.
To learn more about how Kiteworks utilizes its Private Content Network for sharing sensitive information with trusted partners like consultants, suppliers, service providers, and customers, visit Kiteworks in Action.