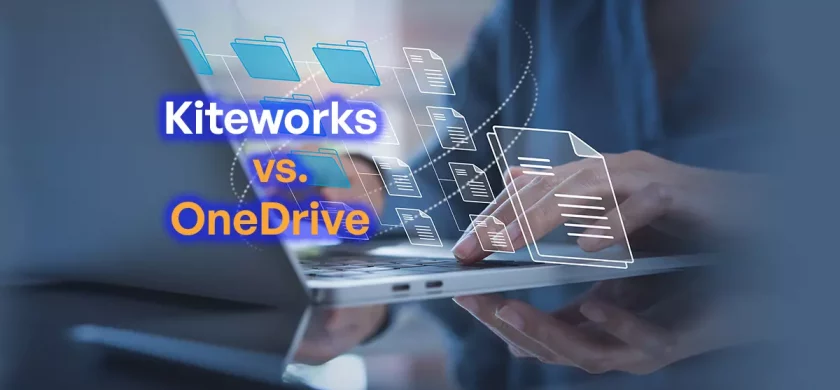 Kiteworks vs. OneDrive | Companion for Business
Kiteworks or OneDrive—which is best for your business? The reality is that OneDrive and Kiteworks integrate well, and OneDrive support can be a critical part of your Kiteworks infrastructure.
What Is the Kiteworks Platform and What Does It Do?
Kiteworks is a comprehensive sensitive content communications platform that enables secure email, file sharing, file transfer, managed file transfer, web forms, and application programming interface (API) protocols. Users include enterprises to small and midsize businesses that want a secure, compliant, and reliable platform to centralize how they communicate with each other and their customers.
What does that all mean in practice? The Kiteworks platform combines several essential features that don't compromise security or compliance for user experience or scalability.
The Kiteworks platform includes several core features that support enterprise customers across multiple industries. These include the following:
Secure Managed File Transfer (MFT): Managed file transfer takes standard secure transfer technologies and upgrades them to enterprise-grade functionality. You can batch and schedule high-volume transfers at night or during the day to minimize network downtime or meet time-sensitive deadlines. You can also automate file transfers based on user or system events.
Security and Compliance: Kiteworks has designed the Kiteworks platform for effective, compliant security controls. Encryption algorithms include AES-256 for data at rest and TLS 1.2+ for data in transit. Additionally, the Kiteworks platform meets compliance requirements for frameworks such as Health Insurance Portability and Accountability Act (HIPAA), Health Information Technology for Economic and Clinical Health (HITECH), Payment Card Industry Data Security Standard (PCI DSS), and Federal Information Processing Standard (FIPS) 140-2. The Kiteworks platform is also a FedRAMP Moderate authorized solution for federal agencies or providers and has compliant technology to support defense contractors and their partners in meeting Cybersecurity Maturity Model Certification (CMMC) authorization.
Secure Email Links and Shared Inboxes: One of the more challenging aspects of email compliance is preventing unauthorized access to clients and customers. The Kiteworks platform provides secure email links and inboxes behind firewall and encryption technologies.
Single-tenant Private Cloud: The Kiteworks platform is deployed on single-tenant cloud platforms, meaning that your cloud instance will not share hardware or resources with other customers. This added layer of security can help with compliance requirements and ease security and privacy management across your data governance operations.
Ease of Use and Integration: The Kiteworks platform is easy to access. Your users can access cloud interfaces from nearly anywhere, including web browsers or dedicated apps for mobile devices and the Windows operating system. Likewise, you and your team can integrate important productivity apps, like Microsoft OneDrive and Microsoft 365, into your Kiteworks deployment (including using desktop versions of these applications) to connect daily office operations with back-end file transfer and security.
What Is Microsoft OneDrive and What Does It Do?
Microsoft is one of the most well-known technology creators in the world, and for good reason—for decades, they defined PC software. Today, they've made considerable strides in cloud-based computing and storage. Their Azure product line of cloud systems has grown to encompass both consumer and enterprise markets. They have made innovations in how everyday customers can leverage advanced technologies like machine learning and analytics.
Some of the core features of Microsoft OneDrive for Business include the following:
Secure, Accessible Cloud Storage: Microsoft, like Kiteworks, uses secure encryption and other technical measures, alongside tight control measures on cloud servers and data centers, to provide an easy-to-adopt cloud security platform.
Widespread Integration With Windows and Office: As the creator of the Windows operating system and Microsoft 365, Microsoft has obviously made its OneDrive for Business solution play nicely with these tools. Like Kiteworks, you can use desktop versions of Word, Excel, or Outlook to manage information securely. You can also integrate OneDrive into desktop workstations so that users can manage files locally with changes immediately synced to the cloud.
Advanced Tools: Microsoft Cloud services include access to several advanced tools, depending on your subscription and usage. Such tools include big data analytics, machine learning and AI agents, and do-it-yourself workflows targeting business users (like Power Platform).
Industry-specific Development: Microsoft has made public and well-publicized inroads into specific markets, namely healthcare. Their work in this field has led to compliant cloud technology shaping these industries with a combination of advanced tools and organization-wide cloud access.
Kiteworks and OneDrive Integration
The simple relationship between Kiteworks as a platform and OneDrive as a cloud storage solution is that OneDrive integrates with Kiteworks as a potential storage vector for content managed through Kiteworks.
Why is this valuable to businesses? Many organizations use OneDrive and associated services as part of their business and content management stack. The addition of mission-critical features like secure file transfer and storage, integrated and compliant secure email capabilities, and enterprise-grade analytics and dashboards support security and business demands.
Why Is Kiteworks the Right Choice for My Business?
The Kiteworks platform is purpose-built with high-performance enterprise customers in mind. Our platform provides a way for you to manage complex file transfers based on time, events, or schedules. Additionally, we provide single-tenant cloud occupancy to maximize your security and compliance efforts. Finally, we offer advanced security and management features like the following:
SIEM Integration: Keep your environment secure with integrated SIEM for alerts, logging, and event response. Integrations include IBM QRadar, ArcSight, FireEye Helix, and LogRhythm. It also helps the Splunk Forwarder, and it's powered by the Splunk app.
Audit Logging: With the Kiteworks platform's immutable audit logs, you can trust that you can detect attacks sooner and that you're maintaining the correct chain of evidence to perform forensics. Since the system merges and standardizes entries from all the components, its unified Syslog and alerts save your SOC team crucial time and help your compliance team prepare for audits.
Data Visibility and Management: Our CISO Dashboard gives you an overview of your data: where it is, who is accessing it, how it is being used, and if it complies. Help your business leaders make informed decisions and your compliance leadership maintain regulatory requirements.
If you want to learn more about the importance of secure file sharing over traditional cloud-sharing approaches, schedule a custom demo.

Additional Resources