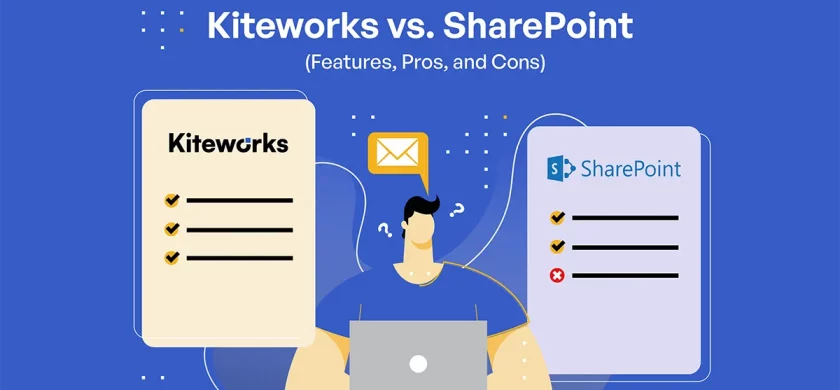 Kiteworks vs. SharePoint [Features, Pros, and Cons]
Looking for the best file-sharing solution but you don't know which one to choose: Kiteworks or SharePoint? We're here to help you with that answer.
What is Kiteworks primarily used for? Kiteworks provides comprehensive governance, compliance, and protection for sensitive content communications across multiple channels, including, but not limited to, secure file sharing. The Kiteworks platform protects confidential data from being intercepted or stolen by outside parties.
Kiteworks vs. SharePoint Comparison Features Side-by-Side
| | | |
| --- | --- | --- |
| | Kiteworks Platform | Microsoft SharePoint |
| File Size Limits | 16 TB | 250 GB |
| Compliance Standards | HIPAA, HITECH, PCI DSS, FedRAMP (Moderate), CMMC, SOC 2, GDPR, FIPS 140-2 | HIPAA, HITECH, GDPR, SOC 2, PCI DSS |
| Productivity Features | Microsoft OneDrive and Microsoft 365 Integration, Google Drive, AWS, Salesforce, Citrix | OneDrive, Microsoft 365, DocuSign, Salesforce, Zoom, Trello, Skype, others |
| Security Features | Transfer Automation, SIEM Integration, DLP, CISO Dashboard, Secure Content Links, Single-tenant Cloud, SIEM Integration | Automation, SIEM Integration, Insight Dashboard, SIEM, Secure Content Links |
| Single-tenant Cloud? | Yes | No |
| Technical Support | Available 24/7 by Phone, Chat, or Email | Available 24/7 by Phone, Chat, or Email |
| Free Trial? | 14-day Free Trial for Business Users | 30-day Free Trial for Business Standard Users |
Selecting an Enterprise File-sharing and Management Solution
Organizations seeking enterprise content management (ECM) solutions need to think beyond just secure file sharing. Documents, contracts, files, and records are at the core of any enterprise, and a document management system must attend to priorities like compliance, security, privacy, and usability daily. In addition, secure file sharing is just one of multiple communication channels used to send, share, and transfer sensitive data.
Acquiring and managing separate solutions for secure email, file sharing, managed file transfer, web forms, and application programming interfaces (APIs) simply isn't feasible and can incur substantial inefficiencies and cost. This is where the Kiteworks platform is the ideal choice, providing a single pane of glass for managing all of your sensitive content communications and centralizing all metadata required for governance and compliance.
Specifically, there are a few key features that you should look for in an ECM, and understanding these features can help you decide between providers like Kiteworks that delivers a comprehensive sensitive content communications platform and Microsoft that targets simply one. Some of these features include:
Document versions and logging: Your ECM must have a way to track events related to documents, including authorized and unauthorized access, editing, deletion, and creation. Audit logging of document events can help you track content changes over time while also providing forensic evidence of editing or tampering for compliance and reporting.
Security and compliance controls: If you are in a regulated industry, you inevitably face compliance obligations. ECM and file-sharing solutions are often central to your compliance considerations, as most customer or client data moves through these systems. Your pick of solutions should include security measures like encryption for stored and transmitted data, network and web application firewalls, and physical and administrative measures. Your secure file-sharing solution must have the ability to help you meet these obligations, typically by maintaining their compliance standards.
Visibility and accessibility: Data must be visible, trackable, and accessible by the right people in your organization. A file-sharing and ECM platform should simplify sharing content (inside or outside your organization) without sacrificing security. Likewise, there should be mechanisms for administrators to monitor data movements, system events, and other operations. Features like an integrated security information and event management (SIEM) system and dashboards all contribute to visibility and accessibility.
Data recovery: Data backup is a discipline unto itself, and many providers offer several hot or cold backup approaches to help you either maintain operations in the case of hot, always-on backups or cold, long-term storage. A solid solution will help you essentially remain in business even if disaster strikes.
Interoperability: No product or platform is an island—for good reason. A file-sharing or ECM solution becomes a seamless part of your overall operations with key integrations for productivity software, security applications, or project management tools.
Most platforms will have some subset of functionality within these categories, so it is up to you and your IT leadership, CISO, or chief data privacy officer to determine where your priorities lie.
What Is the Kiteworks Platform?
The Kiteworks platform is a comprehensive sensitive content communications platform for enterprise businesses that want control over governance, compliance, and security.
The Kiteworks platform enables secure content access and sharing from high-volume enterprise repositories. Core to this functionality is the platform's emphasis on secure cloud deployments with granular controls over file transfers, audit control, and security.
The primary way that the platform serves enterprise needs is through its robust enterprise content management properties. That doesn't just mean that you can share files across an organization, but that the system maintains all the logging, audits, interfaces, and reporting that your business would need to meet security and compliance requirements.
Additionally, the Kiteworks platform includes several technical integrations for productivity and security, including working with Microsoft applications like Word, Excel, and PowerPoint. Kiteworks also integrates with web applications such as document viewing and editing with desktop applications for a seamless user experience.
Most enterprise customers turn to an ECM system for various reasons outside of productivity, but the most prominent is typically compliance and security. Kiteworks has built a system that meets compliance requirements across several industries and applications, including federal FedRAMP, Cybersecurity Maturity Model Certification (CMMC), and Infosec Registered Assessors Program (IRAP), among other regulations.
Most importantly, Kiteworks accomplishes this without sacrificing usability or cost. Typical features like LDAP, single sign-on (SSO) capabilities, file synchronization, disaster recovery, and hot, immediately available backups are part of the core platform.
What Is Microsoft SharePoint?
SharePoint is part of Microsoft's flagship software offerings, providing a streamlined ECM experience for enterprise users.
Many end-users and business customers have at least come into contact with SharePoint in one way or another. It is an easy-to-grasp web interface and shared file ecosystem that makes collaboration simple. The obvious synergy between SharePoint and other products like Microsoft 365 means that integration isn't a problem.
The important thing to note about Microsoft SharePoint is that you don't have to go with either/or. While many might think that Microsoft and Kiteworks are competitors, the reality is that Microsoft is a key integration with Kiteworks. Microsoft cloud storage and productivity tools (Outlook, OneDrive, SharePoint, Office) can all work with your Kiteworks instance. Or, conversely, Kiteworks can integrate your existing Microsoft 365 system within our secure and streamlined Private Content Network (PCN), providing encrypted email and secure file transfer seamlessly.
Why Is Kiteworks the Right Solution for Your Business?
There are a number of different factors that go into the selection of the right secure file-sharing solution. Organizations make an egregious mistake when they evaluate and choose different solutions for sensitive content communications in silos. Plus, many file-sharing solutions are not enterprise-ready, lacking the ability to track and control who accesses and shares confidential data.
The Kiteworks platform is designed and built with enterprise businesses in mind. Kiteworks takes a defense-in-depth approach to security that encrypts data at rest and in motion. Its security architecture includes key encryption and management as well as proactive defense-in-depth measures to ensure real-time alerts and rapid incident response in the event that an attack does occur. Kiteworks also enables organizations to retain control of privacy of their data that is hosted in single-tenancy clouds—meaning there is no intermingling of data, metadata, or shared application resources. This is not possible to do with SharePoint or other file-sharing solutions on the market.
Other key features in Kiteworks include:
A CISO Dashboard provides comprehensive data access, user access, data trends and movement, and controls over data transfers.
Seamless MFT automation and scheduling to power robust file-sharing and transfer policies, including off-hours transfers and operations triggered by employee, customer, partner, or patient activity.
Comprehensive and immutable audit logs can be used to demonstrate compliance, maintain data integrity, and provide forensics in cases of breaches or insider attacks.
Secure email links protect protected health information (PHI) to ensure compliance with the Health Insurance Portability and Accountability Act (HIPAA) while maintaining easy and streamlined communication with patients via email.
SIEM integration with popular platforms like IBM QRadar, ArcSight, FireEye Helix, and Splunk Forwarder. Also, the integration standardizes audit logs into a single file format to support widespread SIEM consumption.
Disaster recovery with hot, always-on systems and multi-site data redundancy guarantee your systems stay up in case of emergency.
Compliant encryption includes AES-256 for data at rest and TLS 1.2+ encryption for data in transit.
Large file transfer and storage with limits up to 16 TB.
Additional layers of protection are included for encryption keys using integration with a hardware security module (HSM) or Amazon Web Services Key Management Service (AWS KMS).
Kiteworks offers comprehensive sensitive content communications governance, compliance, and protection that includes EMC capabilities. Schedule a custom, personalized demo to see how the Kiteworks platform addresses real-world business requirements.

Additional Resources