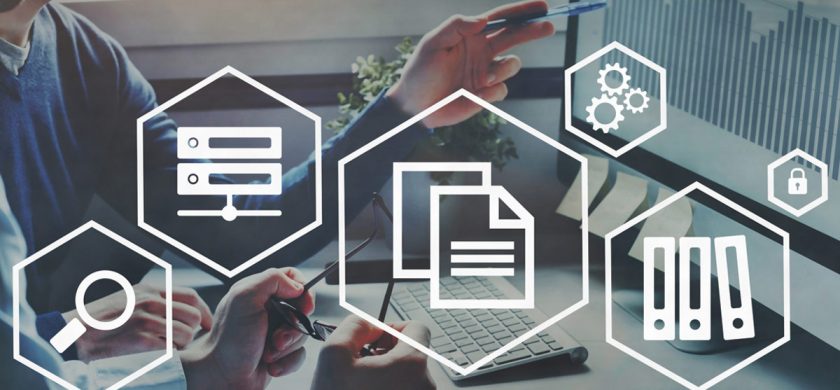 Enterprise File Sharing with Maximum Security & Compliance
Need a new enterprise file sync and sharing solution to replace your old FTP? We look at the pros and cons of vendors, top features and how to choose the best one for you.
What is enterprise file sharing? Enterprise file sharing is a platform, software or vendor that allows your business to seamlessly send data across the network to coworkers or customers all while maintaining security. It allows for collaboration, easy integration and control of the data sent.
What is the Difference Between Traditional and Enterprise File Sharing?
File sharing seems like a relatively simple task and in some ways it is. Some of the most basic features of early internet technology involved the ability to transfer files between users. With the advent of cloud platforms like Dropbox and Google Drive, file syncing and sharing became that much easier.
These tools typically do not address the needs of enterprise clients, however. That's when developers started building enterprise solutions for file sync and sharing and management, called Enterprise File Sharing (EFS), or sometimes Enterprise File Sync and Sharing (EFSS).
There are risks that your business will take when opting for traditional file sync and sharing over EFSS solutions, including data breaches, inefficiencies and non-compliance with any relevant regulations required by your industry.
What Are Some of the Key Features of Enterprise File Sharing Software?
What puts the "enterprise" in EFSS? Critical features for storage, efficiency and reporting. Some of the basic features included in many EFSS solutions include:
Additional support for large files or unique file extensions. Many enterprise file sync and share solutions will directly support large transfers and file types that aren't common outside of specific applications or industries.
Built-in SaaS tools to handle file creation and editing. Most platforms are offering tools or integrations for document management and creation, spreadsheet creation and video or audio streaming.
Advanced security controls for encryption and data loss prevention. Security is critical for the success of any data-driven business. A file sync, storage and sharing platform must have key security features like encryption, file scanning and data protection.
Automation tools to schedule transfers and backups. Scheduling backups, audits and transfers will help your business scale. When you don't have to manually monitor your data, you're in a better position to focus on your business and not your data management.
Robust reporting tools to track usage and compliance. Many industries will require you to keep detailed records of file access and security and many EFSS platforms will support granular reporting to this effect. Additionally, you can use reporting to get a view of how your business uses data and how to improve things like productivity.
Complete visibility of data and access. A solid enterprise solution should give you a complete view of your big-picture transfers and storage. This includes not only the placement of data but how it is transmitted and who is accessing it.
Note that not all enterprise file sync and share platforms offer all these features in a single package.
Does EFSS Support Cloud Storage and Mobile Access?
Absolutely. One of the key advantages of an EFS solution is the ability to use the cloud to connect employees with critical files while still maintaining security controls. While you can use on-prem technology to manage an EFSS, the real strength of modern EFSS software is cloud availability.
Your organization can deploy an EFSS solution on private or hybrid cloud storage. Your employees would create, access and manipulate files in that cloud environment from authorized devices.
That's all well and good for traditional computers like desktop or laptop workstations. Where cloud EFSS solutions also shine is the ability to integrate mobile devices through specific apps. Much like consumer-grade apps for more general cloud storage platforms, these apps allow your team to access and manage files on tablets and phones wherever they are.
However, unlike these consumer apps, enterprise file sync and share apps will help your organization maintain internal security and, if necessary, security compliance. Many EFSS services will come with built-in file controls to ensure that files on remote devices stay secure and that employees don't share them outside your organization.
Why Would I Choose Kiteworks for Secure File Sharing?
Kiteworks offers secure file sharing as part of its platform for sensitive content communications, placing security and usability at the forefront of file sync and sharing. While many of the above solutions support some of these features for a broad category of businesses, Kiteworks supports secure management for businesses that are in regulated industries like healthcare, government contracting, financial services, and others that want to remain compliant without sacrificing functionality or collaborative tools.
This means that Kiteworks' secure file sharing products bring the following advantages to the table:
Security. The Kiteworks platform empowers your employees to work together without sacrificing security. Our products include managed file transfer (MFT), SFTP secure connections and compliant security controls all under a single set of controls. This also includes several levels of security like AES-256 encryption, email encryption and user authentication.

Visibility. Use our centralized compliance and governance tools and CISO Dashboard with complete visibility over your data and users. Keep detailed logs for compliance reporting and cut costs on unneeded storage.

Compliance. Alongside security, we offer features that make compliance easier, scalable and sustainable. With high-level encryption, the Kiteworks platform provides data transparency and reporting to provide a single source of evidence for reporting demands.

As a secure cloud platform, our secure file sharing is FIPS 140-2 validated and FedRAMP authorized for government contractors and agencies. Transparency and data controls, along with security, also make Kiteworks products HIPAA and GDPR compliant.

Collaboration. Kiteworks secure file sharing supports effortless collaboration with internal and external stakeholders using secure VDRs that allow you to control who sees what data and where. Alongside secure VDRs, your team can use cutting-edge productivity tools with Microsoft Office integration to support concurrent file management and email collaboration.
Conclusion
There are many EFSS solutions on the market, but few that handle the level of security that highly regulated industries demand. With Kiteworks' secure file sharing capability, your organization can get that level of security and governance without giving up some of the best parts of EFSS: collaborative work, easy access and data control.
Schedule a custom demo of the Kiteworks platform to see how its file sharing capabilities work.
Additional Resources