115 Top Cybersecurity Stats in 2022
Keeping sensitive content secure and organizations and systems compliant with data privacy regulations and standards is critical for today's business. Digital transformation now extends to all industry segments and organizations of virtually any size. The volume of private data that is digitally sent, shared, received, and stored continues to burgeon.
This generates significant risk. Cybercriminals and rogue nation-states target private data at rest and in transit. Accordingly, proliferation of new technologies across the enterprise network, rapid adoption of cloud services, and multiplication of endpoints—including Internet-of-Things (IoT) devices—ratchets up risk and the complexity of protecting private data from malicious cyberattacks. A study by Ponemon Institute found that 82% of organizations believe they experienced at least one data breach due to digital transformation.
Annual industry studies such as the Verizon Data Breach Investigations Report confirm that sensitive content remains in the crosshairs of bad actors. At the same time, according to the IBM and Ponemon Institute Cost of a Data Breach Report, the cost of a data breach—which includes damaged brand reputation, compliance fines and penalties, the loss of intellectual property (IP), and revelation of critical business information (e.g., legal cases, financial documents, manufacturing schedules, etc.)—continues to rise. The supply chain, which includes software, partners, and other third parties, is increasingly the root source of data breaches.
When it comes to sensitive content communications, the Kiteworks Sensitive Content Communications Privacy and Compliance Report found that 51% of organizations are inadequately protected against third-party security and compliance risks related to sensitive content communications.
The takeaway is that protecting your data and demonstrating compliance with relevant regulations has never been more difficult—and costly.
This blog post delves into some of the key cybersecurity and compliance insights for 2022 and the inferences we can make for the future.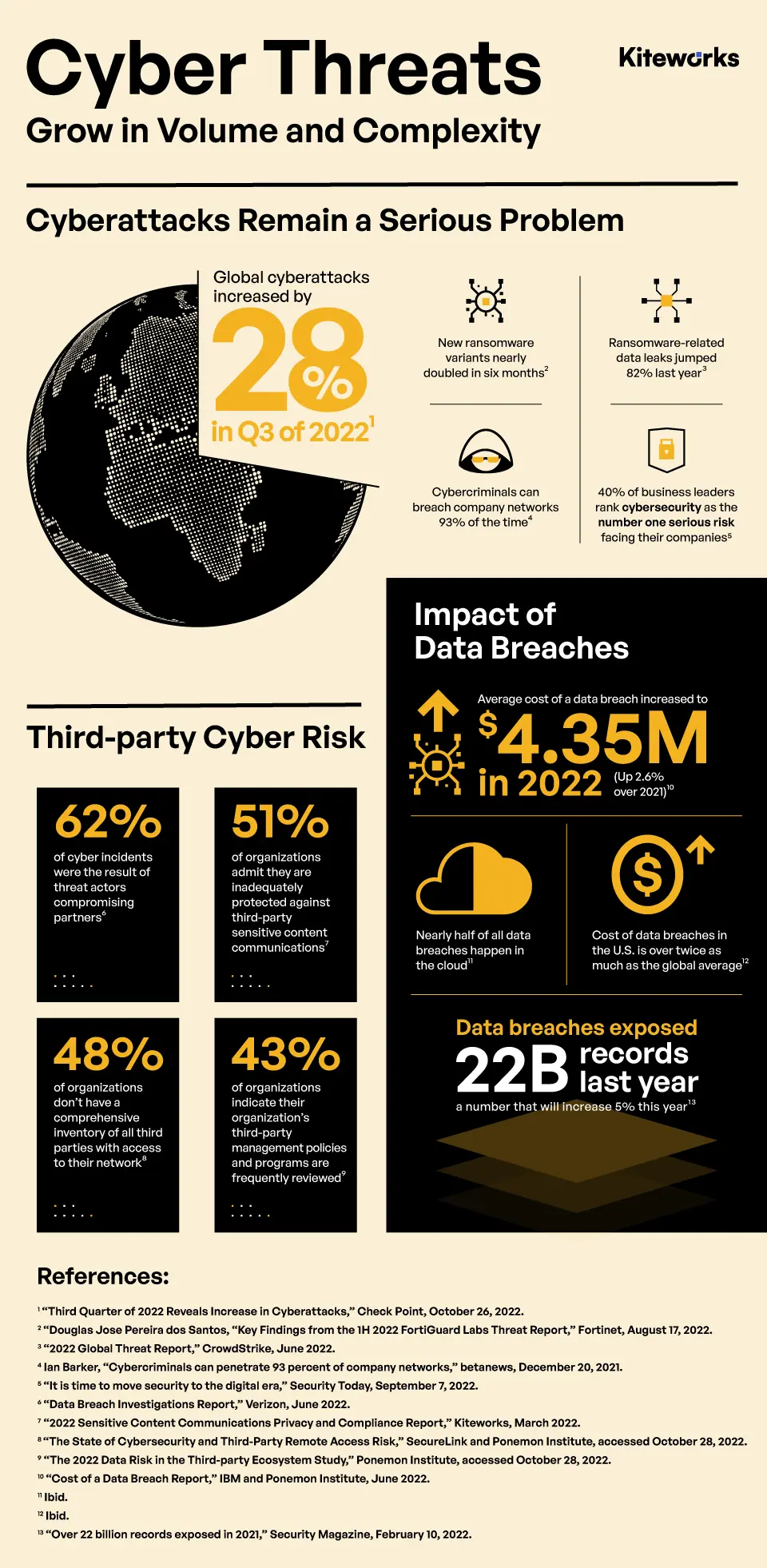 Software Vulnerabilities
Supply Chain
Third-party Risks
Ransomware
Cyberattacks
Data Breaches
Managing Sensitive Content Communications Privacy and Compliance Risk
These top cybersecurity stats for 2022 demonstrate that cybersecurity remains a critical focus for the private and public sectors. When private data is breached, stolen, or held for ransom, the detrimental implications to organizations and personal repercussions are significant. Organizations experience operational, reputational, and financial impact that easily spiral into the millions of dollars. Some small and medium-sized businesses are unable to recover and go out of business.
Sensitive content communications present bad actors with a lucrative cyber target. Personally identifiable information (PII), protected health information (PHI), financial documents, merger and acquisition (M&A) communications, IP, and other forms of private data are some of the primary types of sensitive content in purview. In response, government entities and industry groups have issued a series of regulations and standards, such as the European Union's General Data Protection Regulation (GDPR), California Consumer Privacy Act (CCPA), Canada's Personal Information Protection and Electronic Documents Act (PIPEDA), and Health Insurance Portability and Accountability Act (HIPAA), which require organizations to comply with governance tracking and control.
Thousands of global organizations rely on the Kiteworks Private Content Network to address these privacy and compliance challenges—unifying, tracking, controlling, and securing sensitive content communications. Schedule a custom demo to see how the Kiteworks Private Content Network can enable you to manage governance and security risk.
Additional Resources