Federal Acquisition Regulation (FAR)
Navigating the world of government procurement can be complex, especially for those new to the sector. One way to simplify the process is by understanding the Federal Acquisition Regulation (FAR). FAR provides a fair and uniform set of rules that all federal agencies can follow when procuring goods and services. Additionally, certain sectors, like defense, have supplementary regulations like DFARS to cater to their specific needs. When businesses better understand these regulations, they can better position themselves for success in a crowded and competitive federal marketplace.
This article aims to elucidate FAR's detailed standards, FAR's purpose, and some of its crucial parts. We will also compare FAR with the Defense Federal Acquisition Regulation Supplement (DFARS).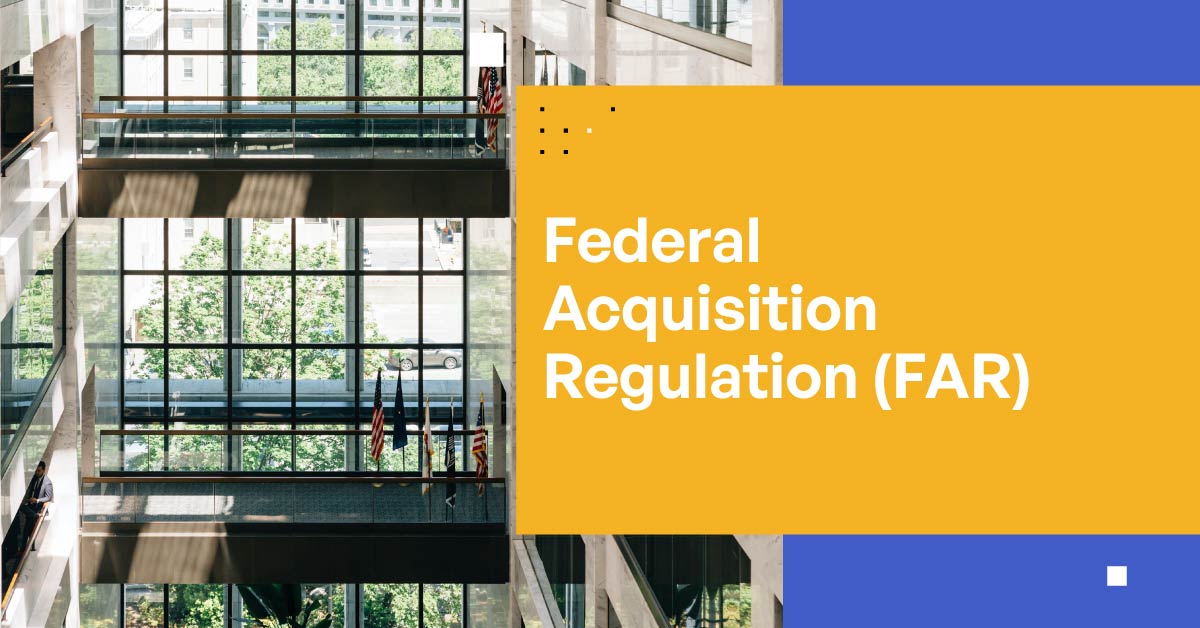 What Is the Federal Acquisition Regulation?
The Federal Acquisition Regulation is a substantial and comprehensive set of rules that govern the process of purchasing goods and services by the U.S. federal government. These regulations are outlined in Title 48 of the Code of Federal Regulations, and they are not just guidelines, they are federal law. Every government acquisition professional must comply with FAR.
It's essential to understand that while FAR is quite complex and extensive, it's organized into 53 "parts" addressing a wide range of topics. Each part provides a specific set of guidelines and stipulations related to that particular topic, making it easier for those involved in the acquisition process to follow the rules.
What Is the Federal Acquisition Regulation's Purpose?
The primary purpose of the Federal Acquisition Regulation is to ensure fairness, consistency, and transparency in government procurement processes. It provides a structure that governs purchasing procedures, ensuring that all vendors and contractors competing for government contracts are subject to the same rules and conditions.
The regulation also addresses a multitude of issues such as ethical concerns, contractor qualifications, contract performance, contract types, and contract dispute resolution. It's a critical tool for maintaining integrity and fairness in government acquisitions.
Understanding FAR's Structure
FAR's structure is designed to provide a comprehensive overview of federal procurement policies, procedures, and regulations. Each part within FAR specifically addresses a separate aspect of acquisition, such as acquisition planning or contract management. Some parts are subdivided into subparts, sections, and subsections, each with more specific regulations and guidelines. An understanding of the structure of FAR is vital for federal procurement officials and contractors alike, as it lays the foundation for navigating and understanding the regulatory landscape.
Importance and Function of Each FAR Subpart
Each subpart within FAR serves a distinctive role in laying out the rules and procedures of acquisition, contract performance, and contract closeout. For instance, Part 15 details the negotiation processes, while Part 16 addresses types of contracts. Detailed comprehension of each subpart is critical for all stakeholders involved in government procurement processes.
Fundamental Principles of FAR
FAR was established to address and clarify several key principles in the federal acquisition process. These key principles include:
Promote Competition
FAR strongly encourages full and open competition to increase efficiency and to stimulate the economy. It regulates the procurement process to ensure that all qualifying contractors have an equal opportunity to bid.
Ensure Integrity and Fairness
FAR seeks to ensure that all procurement activities are conducted with the utmost integrity, fairness, and openness. It provides specific regulations designed to prevent fraud, waste, abuse, and conflicts of interest.
Enhance Efficiency and Effectiveness
FAR aims to facilitate quick, efficient, and effective delivery of goods and services to satisfy the government's needs. It encourages innovation and flexibility in acquisition approaches, within the bounds of law, to derive maximum benefit using taxpayer dollars.
Key Aspects of FAR
There are several crucial areas of focus within FAR that govern the acquisition process. The key areas, or aspects, of FAR include:
Acquisition Planning
This process, detailed in FAR Part 7, is a crucial preliminary stage where the government identifies its requirements and establishes an acquisition strategy.
Selection of Contract Type
FAR provides guidance on the selection of appropriate contract types based on the nature and risk of the requirement, as outlined in Part 16.
Contract Pricing
Part 15 of FAR outlines the processes for determining fair and reasonable pricing, which is fundamental to safeguarding taxpayer dollars and promoting fiscal responsibility.
Contract Administration
FAR provides guidance on the management, oversight, and performance assessment of existing contracts, as described in FAR Part 42.
Socioeconomic Programs
FAR includes provisions, such as those in Parts 19 and 22, that promote socioeconomic objectives, including small business participation, labor standards, and environmental stewardship in federal procurement.
Federal Acquisition Regulation Parts
FAR is divided into several "parts." Each addresses specific issues related to government procurement. Let's discuss a few below:
FAR Part 31
Established as a critical directive for federal contracting, FAR Part 31 focuses on Contract Cost Principles and Procedures. This section is instrumental in determining what costs are reimbursable under federal contracts. It applies to all types of contracts, including firm fixed price, cost reimbursement, time and materials, and labor-hour. Part 31 outlines the standards for specific kinds of costs such as direct and indirect, allowances, and allocations. This part further elaborates on special cost considerations like public relations and advertising costs, defense and prosecution of criminal and civil proceedings, and fines and penalties. The interpretation and application of Part 31 often requires a deep understanding of both the regulation itself and the accounting principles underlying it.
FAR Part 52
FAR Part 52, or the Solicitation Provisions and Contract Clauses, provides the full text of the pre-established clauses that are incorporated by reference in federal contracts. This section is categorized into both solicitation provisions and contract clauses. The provisions are instructions contained in the request for proposal (RFP) or invitation for bid, while the clauses are the conditions that are put into the ensuing contract. Examples of topics addressed in FAR Part 52 include quality assurance, patent rights, labor laws, option to extend services, changes in estimated cost, and small business subcontracting plans. These pre-drafted clauses aim to streamline the contract drafting process while maintaining uniformity across federal contracts.
FAR Part 19
FAR Part 19 addresses Small Business Programs. It is designed to assist, counsel, and protect, as much as possible, the interests of small and disadvantaged business concerns in order to preserve free competitive enterprise. The section outlines the various small business programs such as 8(a) Business Development, HUBZone, Service-Disabled Veteran-Owned Small Business, and Women-Owned Small Business programs. Each program has specific eligibility requirements and benefits, like set-aside contracts and price evaluation preferences. FAR Part 19 also includes requirements for subcontracting with small businesses, with specific percentage goals set for different types of small businesses, thereby ensuring their participation in federal contracting.
FAR Part 17
FAR Part 17 is concerned with Special Contracting Methods, and it covers topics such as multi-year contracting, options, and leader company procurements. This section is vast and versatile in its scope, covering special contracting arrangements such as Indefinite Delivery Contracts, Federal Supply Schedule Contracts, and Governmentwide Acquisition Contracts (GWACs). Furthermore, it includes the legalities and procedures for exercising options, emergency acquisitions, and interagency acquisitions. The contents of this part are particularly relevant to contracting professionals dealing with complex acquisitions, as it provides valuable guidance on handling unique or nontraditional contractual situations. Alternatives to traditional contracting methods, such as the use of blanket purchase agreements and basic ordering agreements, are also delineated. This part is fundamental in enabling contract flexibility while complying with statutory and policy restrictions.
Federal Acquisition Regulation (FAR) vs. Defense Federal Acquisition Regulation Supplement (DFARS)
While FAR governs federal government procurement in general, some agencies have additional regulations called agency supplements. One of the most well-known is the Defense Federal Acquisition Regulation Supplement (DFARS), unique to the Department of Defense (DoD). Let's discuss these two in detail.
What Is DFARS?
DFARS is a supplement to FAR that provides Department of Defense-specific acquisition regulations. DFARS contains requirements of law, DoD-wide policies, delegations of FAR authorities, and more. It is mandatory for use by all DoD contracting activities and contractors doing business with DoD.
How Does FAR Differ From DFARS?
While both FAR and DFARS regulate the process of government acquisition, there are essential differences between them. As mentioned earlier, FAR serves as the primary set of rules applicable to all federal agencies. DFARS, on the other hand, only applies to the Department of Defense and its various sectors.
Moreover, DFARS contains more specific requirements relevant to military and defense contracting. For instance, it includes detailed requirements for cybersecurity and protection of sensitive information, which are especially pertinent to defense contracts. The understanding of both is critical to companies seeking to secure contracts with the federal government, particularly those in the defense sector.
How to Comply With Federal Acquisition Regulation
Complying with FAR is not optional; it is a legal requirement for any business that transacts with the federal government. However, given the broad and complex nature of these regulations, compliance can be challenging.
First, it's crucial to have a thorough understanding of the regulations that apply to your business or contract. This involves constantly reviewing and updating your knowledge about FAR and its various parts. Regular training and education, both for the management and the employees, can help in this regard. Here are some additional considerations:
Implement Policies and Procedures
It's also important to develop and implement policies and procedures that align with the requirements of FAR. These may include measures to ensure fair competition, uphold ethical standards, comply with labor laws, and protect sensitive information.
Moreover, these policies and procedures should be regularly reviewed and updated to keep up with any changes in the regulations.
Audit and Review
Regular audits and reviews are an essential part of FAR compliance. These can help identify any areas of noncompliance or potential risks, allowing them to be addressed promptly. An organization should also be prepared for external audits by government agencies.
Furthermore, maintaining detailed records of all procurement activities is crucial for demonstrating compliance in the event of an audit.
Kiteworks Supports Government Contractors With FAR Compliance
Compliance with FAR is crucial for government contractors, as it ensures that they meet the necessary standards for security, integrity, and efficiency in their operations. The Kiteworks Private Content Network (PCN) is a comprehensive solution that supports government contractors in achieving and maintaining FAR compliance.
Kiteworks provides a secure platform for the transmission and storage of sensitive content, ensuring that contractors can maintain the integrity and confidentiality of their information systems. This is particularly important in the context of FAR, which requires contractors to implement measures to prevent unauthorized access to government information.
Secure transmission capabilities include email, file sharing, managed file transfer (MFT), web forms, and more. These features enable contractors to effectively manage risk in every send, share, receive, and save of sensitive content. This is crucial for FAR compliance, as the regulation requires contractors to have systems in place to identify, assess, and manage risks related to the acquisition process.
Moreover, the Kiteworks PCN provides comprehensive content governance capabilities. It unifies, tracks, controls, and secures sensitive content moving within, into, and out of an organization. This significantly improves risk management and ensures regulatory compliance on all sensitive content communications.
In addition, Kiteworks supports compliance with specific FAR clauses such as the System for Award Management (SAM) and the Federal Risk and Authorization Management Program (FedRAMP). It provides detailed audit logs and records of data access, file transfers, and user activities, helping contractors comply with incident notification and record-keeping requirements.
Federal contractors looking to comply with the Federal Acquisition Regulation can schedule a custom demo of the Kiteworks Private Content Network.
Back to Risk & Compliance Glossary
SUBSCRIBE
Get email updates with our latest blogs news