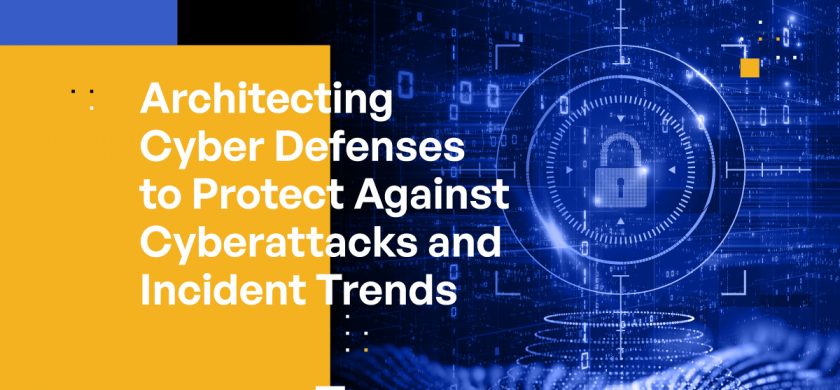 Architecting Cyber Defenses to Protect Against Cyberattacks and Incident Trends
The world of cybersecurity is constantly changing, and new technologies and growing sophistication of cybercriminals, cyberattacks, and incidents are increasing in prevalence as well. In a Kitecast episode, Michael Daniel, the CEO and Founder of the Cyber Threat Alliance, explains why it is critical to understand and stay up to date with the most recent types of cyberattacks and incidents and current cyber trends to ensure that you are prepared to protect your organizations from cyber threats. This blog post provides an overview of the Kitecast interview with Daniel and spells out some of the key takeaways from the conversation.
Cyberattacks and Incident Reporting

According to Daniel, the current trend in cyberattack and incident reporting is a shift from reactive to proactive. As threats grow in sophistication, organizations must go beyond simply responding to incidents. Instead, they must take preventive steps to protect their data and systems.
One way to do this is through information sharing. Organizations must be willing to share data with each other to better understand their threats and how to respond to them. This is where threat intelligence comes into play. Threat intelligence enables organizations to see their attackers' tactics and build strategies to defend against them.
Proactive Steps in Cyber-threat Mitigation to Use

In addition to information sharing, organizations must take proactive steps to identify and mitigate potential cyber threats. This includes increasing visibility into threats and being able to respond quickly. Once a breach has been identified, organizations must have the appropriate resources and incident response plan in place to effectively manage it.
Organizations should also use tools and systems to monitor and detect threats. This includes using network analysis tools to track traffic and identify malicious activity, as well as using threat intelligence products to gain insights into their attackers' tactics. By taking a proactive stance, organizations can reduce their exposure to cyber incidents and better protect their systems and data.
Increase in Targeted Cyberattacks on Specific Sectors

The current digital landscape is full of risks, especially with the increase in targeted cyberattacks on specific sectors. Cyberattacks on the public, private, and government sectors have become a major problem, as these attacks often result in data breaches, negative publicity, and financial loss. Organizations in certain industries, such as healthcare, financial services, and government, are increasingly targeted by attackers. Despite the increasing awareness of the problem and the increasing resources expended to prevent them, these attacks will remain a threat in the foreseeable future.
The most common type of cyberattack, advanced persistent threats (APTs), are tailored attacks that target specific sectors with the intention of stealing intellectual property or information. These attacks often involve malicious actors using automated tools to gain access to vulnerable systems, steal data, and even manipulate systems. These types of attacks have become increasingly sophisticated and are hard to detect, making them difficult to prevent.
Organizations need to have a comprehensive plan in place to protect their systems from potential attacks. It is important to have the latest security software and end-to-end encryption of data. It is also important to have regular updates and patching for systems, as well as strong authentication and authorization procedures. Additionally, organizations need to have a good understanding of their environment, as well as implementing policies and procedures to ensure the security of data.
It is important to have an effective incident response plan in place. This should include techniques in order to quickly identify and remediate any cyberattacks. Companies should involve all relevant stakeholders in the incident response process, such as the IT staff, legal, and other relevant personnel.
By implementing the right measures, organizations can reduce the risk of cyberattacks. It is important to be proactive in order to reduce the damage caused by these attacks. By staying vigilant, organizations can reduce the risk of targeted cyberattacks in 2023 and remain competitive in a digital world.
Cybersecurity Strategies for Preparing for the Future

There are certain measures organizations can take to ensure they are prepared for future cyber threats. They include:
Information Sharing

Information sharing is essential for cyberattack prevention and mitigation. By working together, organizations can identify and address threats before they become a problem. And by sharing information about cyber threats and attacks, organizations can protect their systems and networks from harm. When organizations collaborate to share information about cyber threats, they can quickly and effectively assess the risks and increase their defenses against potential attacks. Information sharing can also help organizations develop strategies to mitigate the impact of a cyberattack. In short, by exchanging information and working together, organizations can better detect threats and respond to incidents more quickly. Information sharing helps organizations become aware of new threats and tactics that cyberattackers may use. This allows organizations to take proactive steps to reduce the risk of attack.
Increase Security Awareness and Employee Education

The first step organizations should take in developing effective cybersecurity risk management strategies is to increase security awareness and employee education. Organizations should develop an effective security awareness program that is tailored to the organization's specific needs. This program should include training on the latest cyber threats, as well as regular reminders of best practices for staying secure online.
Invest in a Robust Cybersecurity Strategy

Organizations should also invest in a robust cybersecurity strategy that includes measures for preventing, detecting, and responding to cyberattacks and incidents. This strategy should include security measures such as advanced firewalls, multi-factor authentication, and intrusion detection systems (IDS), as well as policies and procedures for responding to security incidents. Organizations should also implement a security operations center to ensure their security measures are effective.
Leverage Automation and AI

Organizations should leverage automation and artificial intelligence (AI) to increase the efficiency and accuracy of their security measures. Automation and AI-powered tools can help detect and respond to cybersecurity threats in real time, as well as identify emerging threats.
Protect Your Data With Kiteworks Private Content Network

The frequency of cyberattacks and incidents is expected to continue to increase in 2023. Organizations should be prepared for a wide range of cyberattack and incident trends, such as the rising impact of AI-powered attacks, the emergence of 5G and Internet of Things (IoT) security challenges, combined with an increase in targeted attacks on specific sectors. Organizations must take a proactive approach to cybersecurity and must have the necessary resources and incident response plan in place to effectively manage any potential threats.
To prepare for these trends, organizations should increase security awareness and employee education, invest in a robust cybersecurity strategy, and leverage automation and AI. A critical foundation to protecting sensitive content communications is by using a Private Content Network, unifying sensitive content communications through centralized and automated governance, compliance, and security.
The Kiteworks Private Content Network enables companies to securely manage their content and data, by consolidating siloed sensitive content communication channels—emails, file sharing, managed file transfer (MFT), web forms, and application programming interfaces (APIs). Powered by AES-256 encryption for data at rest and TLS 1.2 for data in transit, it provides comprehensive protection for organizations that must comply with industry and government regulations. It also offers audit logging, security information and event management (SIEM) integration, visibility, and management tools with a single-tenant cloud environment to minimize the risk of a cross-cloud breach. The platform gives business leaders insights into their information, who is accessing it and how it is being used, enabling them to make informed decisions and ensure compliance for all their communication channels.
Learn how Kiteworks delivers a Private Content Network (PCN) by watching our explanatory video. Or simply request a custom-tailored demo.
Additional Resources