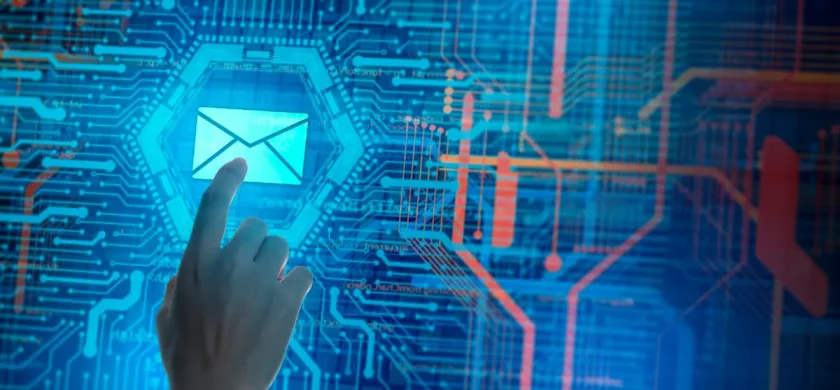 CMMC Compliance for Email Security Solutions
If you work with the federal government, CMMC compliance should be on your radar. To continue to do business with them, these compliance standards must be met.
What does CMMC stand for? CMMC stands for the Cybersecurity Maturity Model Certification. CMMC is a compliance requirement that applies to suppliers, contractors, and other workers who provide a service or product to the U.S. Department of Defense.
What Is CMMC and How Does It Impact My Business?
CMMC is a newer set of regulations put into place by the Department of Defense to govern how agencies and contractors handle Controlled Unclassified Information (CUI). CUI is a unique form of information in that, while it is not classified, it serves an essential function in the operation of the government and defense organizations.
CMMC is based on the National Institute of Standards & Technology (NIST) Special Publication 800-171 and Federal Information Processing Standards (FIPS) 200, defining a company's ability to manage CUI based on its cyber maturity. This is measured by two primary factors: the technical controls the contractor implements, and the capabilities they demonstrate (like planning, documenting, or remediating security problems). To measure maturity, CMMC ranks contractors at "Maturity Levels," moving from level 1 (basic) to level 5 (advanced and proactive). Only contractors at level 3 or higher may apply for a contract that involves handling CUI.
These requirements apply to any system touching CUI and will be spelled out in contracts with DoD agencies. Any contractor working toward compliance as part of a contract must work with a CMMC Third-Party Assessment Organization (C3PAO) to audit and document preparedness. Likewise, this audit must voice all information-handling systems the contractor uses, either on-premises or through a third-party provider. This includes file sharing, cloud storage, and email.
How Does Email Fit Into CMMC Compliance?
Email is a challenging medium for contractors that want to stay compliant. On the one hand, it is so ubiquitous that not using email could hamper how they do business. On the other hand, the standard email used by most organizations does not meet CMMC requirements because it is not encrypted at either endpoint or during transit.
An unencrypted message can be intercepted en route to its receiver, or at rest in an email server, and read immediately. Coupled with the fact that DoD contractors and agencies are already primary targets of state-sponsored cyberattacks, it is safe to assume that any unencrypted email containing CUI sent over the internet will be stolen.
According to NIST 800-171, CMMC will call for anyone using email to send, receive, share, or store CUI (or connect to systems that do) to implement sufficient encryption standards for Maturity Level 3. These requirements can create a problem for small businesses, in particular. While the DoD wants to encourage enterprise businesses and SMBs alike to participate in the supply chain, accessing compliant technology that fits their unique needs can be challenging.
Specifically, many SMBs are not interested in implementing fully featured and complex cloud environments just to handle messaging or file transfer. For example, while Microsoft Azure offers a specialized cloud platform tailored explicitly to NIST 800-171 compliance, it requires a complicated authorization and purchase process through Microsoft and resellers that consists of a four- to six-month migration process and a price tag up to $100,000 per year. And this does not account for a complete move to Azure.
What then does it mean for your organization to use CMMC-compliant email? Third-party platforms like Kiteworks® provide an affordable, easy-to-implement, and easy-to-use option that streamlines compliant email by offloading technical and administrative details. Doing so enables SMBs to focus on running their business.
What To Look For in CMMC-compliant Email Systems
At first glance, organizations might think deploying a commodity encrypted email system will get them to CMMC level 3 compliance out of the box. But encryption is not enough: Businesses need secure servers, enterprise-grade tools, and a safe way to share information inside and outside your organization.
With that in mind, there are several features to look for in a compliant email system:
Compliant technology: Compliance is not just an IT question. It covers technology, administration, and physical access to machines. An organization's first step is to find a provider that supports CMMC compliance at the maturity level they need.
Encrypted servers with email and file sharing: Your provider's servers should be encrypted and hardened against attacks. This kind of security means robust firewalls and strong encryption standards (AES-256 for data at rest and TLS 1.2+ for data in transit).
Secure email links: This approach is a way to fold compliant email capabilities with public media coverage. Instead of sending emails containing CUI, businesses can send a secure link over a plain-text email. This link directs readers to your safe and hardened servers, requiring authentication for data access. Since users access information on the server and not through email, businesses maintain security without requiring everyone to use the same encrypted email schemas.
Sending unlimited file sizes: Many public emails limit data attachment file sizes, which diminishes flexibility in terms of sharing files outside of an organization. With unlimited file sizes, organizations can count on the fact that they can share information at any time. Or, if they are using a solution with secure links, then file size is not an issue.
Private cloud deployment: Many cloud servers are multi-tenant, meaning they share computing and storage resources with other users. Look for an email server with single-tenant usage to protect against security breach rollover or accidental information exposure to other cloud users.
Auditing and logging: CMMC compliance calls for auditing and logging, both for reporting purposes and forensic use during or after a security breach. A solution should allow businesses to track and audit system access related to emails or file transfers automatically and in line with compliance and security goals.
Enterprise analytics: Any access to files should be tracked (see auditing and logging), but this involves more than compliance. Analytics gives organizations a better understanding of how your data moves through your system, from email to file sharing and storage, and how to align business and technical goals with compliance requirements.
Security integration: Outside of encryption and hardened systems, your solution should integrate with advanced security information and event management (SIEM) tools to bolster logging and raise alarms related to suspect security events.
Secure Your Email With Kiteworks
Secure email is a necessity; yet, it can become the most complex part of your CMMC system. That is why it is vital to have a secure, compliant, and flexible solution for business purposes. Kiteworks empowers businesses to meet the needs of your clients in the DoD supply chain and operate with efficiency.
With Kiteworks, organizations get:
Secure email links: With Kiteworks, users do not send emails; they send links back to hardened servers. This means they can maintain CMMC compliance while also providing email coverage for outside users as needed. This enables organizations and third-party partners to avoid being locked into a specific Pretty Good Privacy (PGP) encryption manner.
Encryption and hardened servers: Kiteworks utilizes AES-256 encryption for data at rest and TLS 1.2+ for data in transit. Its hardened virtual appliance, granular controls, secure firewall, authentication, and other security stack integrations deliver robust security protections. Coupled with comprehensive logging and audit, organizations can achieve compliance efficiently.
Audit logging: With Kiteworks immutable audit logs, users can trust that an organization can detect attacks sooner, and that they are maintaining the correct chain of evidence to perform forensics.
Private cloud: Your file transfers, file storage, and access occur on a dedicated Kiteworks instance, deployed on your premises, on your Infrastructure-as-a-Service (IaaS) resources, or hosted in the cloud by Kiteworks. That means no shared runtime, databases or repositories, resources, or potential for cross-cloud breaches or attacks.
SIEM integration: Kiteworks supports integration with major SIEM solutions, including IBM QRadar, ArcSight, FireEye Helix, LogRhythm, and others. It also has the Splunk Forwarder and includes a Splunk App.
Data visibility and management: Kiteworks' CISO Dashboard provides critical insight into how your data moves through your system: who handles it, when they handle it, and how. Businesses can use this information to inform essential CMMC requirements like developing security- and data-focused plans for auditors.
Unlimited file size: Our secure email links allow organizations to share files of any size. Additionally, they can use our managed file transfer and storage capabilities to store and share unlimited sized files.
Learn more about using a secure email solution that can help defense contractors meet CMMC requirements for CUI by requesting a demo of Kiteworks. Also check out our webinar—Meeting CMMC Secure File Transfer Requirements.
Additional Resources