Glossary
What Is Vendor Risk Management: Creating a VRM Program
Vendor risk management deals with vulnerabilities that vendors and third parties bring to your business. But how can you mitigate these risks?
What is vendor risk management? Vendor risk management is the process of overseeing vendors and calculating the risks associated with working with each vendor. This process is ongoing, and when done correctly, allows the company to avoid possible violations or threats to their business.
Why Does a Business Need Vendor Risk Management?
Vendors are a part of doing business. Complex enterprise organizations increasingly spread their offerings and services across multiple industries, and in doing so, require extended capabilities to meet the demands of their collective markets.
Accordingly, the modern digital marketplace has seen the increased reliance on managed service providers that offer software and solutions for security, payment processing, cloud storage—nearly any potential need a business might have.
Alongside these managed service providers (MSPs), internal functions like identity management and authentication, security operations centers, and network management have also been outsourced traditionally to vendors.
With vendors handling more complex and critical functions, it is crucial for businesses hiring vendors to assess the risk they may introduce. These risks can include the following:
Security Risks: Unsecured vendor technology, or even unintended breaches, can impact the vendor and all of their clients. Recent attacks on service providers demonstrate how interconnected systems open security holes.
Operational Risks: Dependence on vendors can leave enterprises open to problems with operational reliability. If a vendor's systems fail, it can leave all of its clients without important services. For example, suppose a retailer relies on a payment processor like Square, and those services go down. In that case, that retailer can find themselves without the capability to sell products.
Compliance Risks: Several industries, like healthcare and defense contracting, involve rigorous regulations that businesses must comply with. If these businesses work with vendors that aren't themselves compliant, it can prove disastrous for that business. This means that these businesses must work with vendors to demonstrate and maintain compliance in their systems.
Reputational Risks: Who a company works with can impact their reputation. Working with a vendor with a less than savory or reliable reputation can likewise damage the reputation of their clients. If a cloud service provider has a legacy of breaches, it won't instill confidence with customers of businesses using that cloud service.
Therefore, vendor risk management is an organizational effort to assess, understand, and control these risks as it relates to their vendor relationships.
Often, the terms "vendor" and "third party" are used interchangeably in risk management. While there are some industry-specific differences between these terms, generally speaking, they refer to the same type of risk management.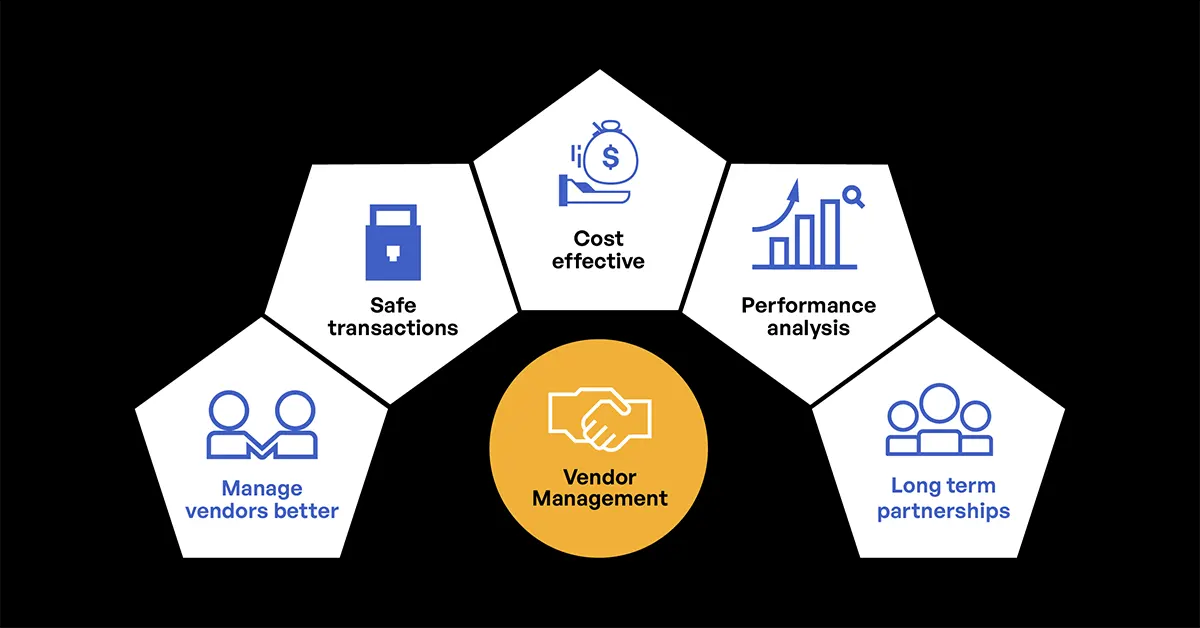 What Is the Vendor Risk Management Maturity Model?
Risk management is not a simple process. With the layers of practices, technologies, and processes in play with any vendor relationship, risks can emerge due to interactions with different systems and third-party workflows.
To support robust risk management in complex vendor relationships, experts have created the Vendor Risk Management Maturity Model. This holistic approach to risk management helps organizations evaluate risk associated with their vendors across the different risk categories, developing strategies to address and mitigate risk as it arises.
Commonly, the VRMMM includes several maturity levels to measure capabilities:
Start-up/No Vendor Management: An organization does not have any vendor risk assessment implemented at this maturity level (typically associated with new businesses).
Ad Hoc Activity: Vendor risk activities are implemented ad hoc based on different situations without strategies or plans, although the organization might consider some strategies.
Road Map and Ad Hoc Activity: Ad hoc activities continue, but their security and vendor management have conceived and approved a vendor management roadmap.
Defined and Established: Management plans are defined, implemented, and partially underway in an organization but not yet fully implemented.
Fully Implemented: Vendor management activities are in place and operational, including reporting and compliance integration.
Continuous Improvement: Organizations monitor vendor risk to optimize strategies and management continuously.
What Are Appropriate Best Practices When Selecting a Vendor?
Even with a VRMMM system in place, organizations must vet potential third-party vendors before entering into relationships with them. Additionally, businesses must continually assess these relationships even after the contract has been signed.
To perform due diligence with vendors and maintain best practices, organizations should consider following these suggestions:
Develop a Risk Management Program: Before entering into any vendor relationship, have programs in place to define policies, procedures, and business goals around vendor relationships. It is impossible to develop criteria to evaluate vendors without establishing those criteria beforehand.
Set Up Contract Requirements: Have a standard vendor contract in place that covers risk management requirements, including mandatory reporting, monitoring, and assessments. These requirements can also include regularly reassessing contract terms based on changing system configurations, new infrastructure, or shifting business models.
Conduct Background Checks: Always evaluate a vendor across all risk categories. This can include studying news stories and industry reporting, consulting with current and previous vendor clients, requesting reports over financials and compliance standards, and conducting coordinated evaluations of employees and technologies.
Define a Selection Process: Have documentation and language ready for requests for proposals, including policies and metrics to compare potential vendors. These requests for proposals should also include clear outlines of the risk assessment and background checks that these vendors will be expected to undergo.
Have Breach Response Plans in Place: If working with technology vendors, the potential for a breach is always present. Don't wait for vendors to solve their problems, but have a breach response and remediation plan in place in case disaster strikes.
Implement Continuing Audits: Don't leave security to chance. Vendor management should work with the latest information on hand, conducting regular reporting and audits. Audits can include compliance and technical assessments and automated vulnerability scans. Furthermore, require vendors to provide annual reporting on their systems and provide more regular reports when system technologies and configurations change. An organization can also implement vendor questionnaires completed by the third party to streamline some aspects of risk assessment.
Assign Skilled Leaders to Vendor Management: Most organizations have dedicated management or executives assigned to areas like finance, marketing, and information security. Create and staff a vendor management executive who can own vendor relationships and the risk assessment process.
Compliant, Secure Content Management With Kiteworks
Vendor management presents a critical challenge for many organizations. Kiteworks, a provider of third-party cloud-based content and data management, makes these tasks easier to accomplish. With advanced reporting and auditing capabilities, secure third-party collaboration tools, and comprehensive automation and analytics, users of Kiteworks can monitor security and compliance issues with any collaborator or vendor.
Read the capability brief to learn how Kiteworks can support vendor risk management and compliance. Also, make sure to try a free, personalized demo of the Kiteworks platform.
Back to Risk & Compliance Glossary
SUBSCRIBE
Get email updates with our latest blogs news