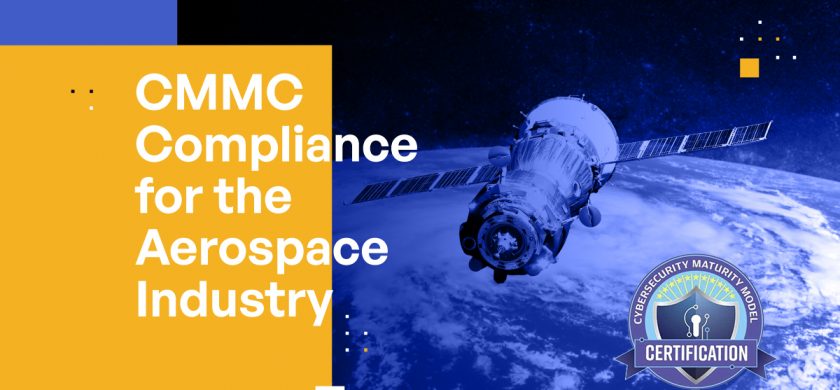 CMMC Compliance for Aerospace Manufacturers
Cybersecurity threats are an ever-growing concern in the aerospace industry, as vulnerabilities in systems and infrastructure and malicious attacks on private data can result in devastating consequences. In response to this, the Department of Defense (DoD) introduced the Cybersecurity Maturity Model Certification (CMMC) framework to ensure that companies operating within the defense sector have the necessary controls and measures in place to protect sensitive information.
This detailed blog post will examine CMMC compliance through the lens of the aerospace industry and what businesses in the industry sector need to know about laying a successful certification roadmap.
What Is CMMC?
The Cybersecurity Maturity Model Certification (CMMC) is a framework designed by the Department of Defense (DoD) to help protect sensitive content and infrastructure within the Defense Industrial Base (DIB). The CMMC consists of a set of cybersecurity standards, practices, and processes that organizations must meet to be eligible to handle controlled unclassified information (CUI) and federal contract information (FCI) on behalf of the DoD.
Why CMMC Matters for the Aerospace Industry
The aerospace sector is one of the most critical industries in terms of national security and defense. As the world continues to advance, new technologies bring opportunities and challenges for the industry. The aerospace industry has always been and remains a top target for cybercriminals due to the vast amounts of sensitive content that organizations in this sector manage. The sophistication of cyber threats continues to increase, and cybercriminals continue to deploy more sophisticated attack vectors that bypass traditional security controls.
With the emerging global cybersecurity threats, the aerospace industry must prioritize the implementation of robust cybersecurity measures. The CMMC framework is a significant step in the right direction for the industry. It is designed to guarantee that contractors and subcontractors in the industry maintain appropriate security measures that protect sensitive information and reduce the risk of attacks.
The CMMC certification process is comprehensive and encourages strict adherence to cybersecurity best practices. By implementing cybersecurity requirements and best practices under CMMC and obtaining CMMC certification, organizations in the aerospace industry can assure the government, their customers, and other stakeholders that they have security best practices and technologies in place to protect against any cyber threats. Failure to adhere to the CMMC certification standards could result in jeopardizing the security of the sensitive information, the loss of government contracts, and ultimately, the reputation of the organization.
CMMC Levels and Domains: Key Components
The CMMC has three main levels of certification: Level 1, Level 2, and Level 3. These levels are designed to help companies of different sizes and capabilities achieve the level of security necessary to maintain the confidentiality of government data.
CMMC 2.0 Level 1: Foundational
Level 1 (Foundational) is the easiest of the three levels and requires companies to have basic cybersecurity practices in place. Level 1 requires companies to document their policies and procedures, provide basic training to employees, and perform periodic security assessments.
CMMC 2.0 Level 2: Advanced
Level 2 (Advanced) is more advanced, requiring companies to have more extensive cybersecurity measures and IT management practices in place. Companies must also provide evidence of their cybersecurity policies and procedures, provide more advanced training to employees, and have a more thorough security assessment. Level 2 has 110 controls for CMMC 2.0 that come directly from NIST 800-171.
CMMC 2.0 Level 3: Expert
Level 3 (Expert) is the highest level of certification, and it requires that companies have the most advanced cybersecurity measures and IT management practices in place. Companies must provide extensive evidence of their cybersecurity policies and procedures, provide comprehensive training to employees, and have an in-depth security assessment.
For CMMC 2.0 Level 3, there are 130 required controls. These controls are a means of managing risk that includes policies, procedures, guidelines, practices, or organizational structures, which can be of an administrative, technical, management, or legal nature, and are specified by NIST SP 800-171 and FAR 52.204-21. CMMC 2.0 Level 3 also contains 58 practices, or technical activities, that are required and performed to achieve a specific level of cybersecurity maturity for a given capability in a domain. These practices sit under 16 different domains, and are a subset of NIST SP 800-172.
Preparing for CMMC Certification
Preparing for CMMC certification can be a complex process that requires a significant investment of time and resources. However, it is essential for DoD contractors to meet the required cybersecurity standards to continue doing business with the government.
Self-assessment and Gap Analysis
To achieve CMMC certification, organizations must first conduct a thorough self-assessment and gap analysis of their current cybersecurity practices. This process helps them identify any areas where they may fall short of the requirements set forth by the CMMC framework. It is important to note that this assessment must be done objectively and with strict attention to detail. Organizations should not assume that their current practices will be sufficient to meet the CMMC requirements.
During the gap analysis, organizations should identify any areas where they may have deficiencies in their cybersecurity practices. These could include issues with access control, incident response, or content protection, among others. Once these gaps have been identified, organizations can begin to develop a plan to address them.
Developing a CMMC Compliance Roadmap
After the gaps in their cybersecurity practices have been identified, organizations should develop a CMMC compliance roadmap to outline the steps they will take to achieve certification. This roadmap should include milestones, timelines, and the resources required to achieve compliance.
The roadmap should also include a Plan of Action and Milestones (POA&M), which is a document that outlines the specific actions that will be taken to address each gap identified during the self-assessment and gap analysis. The POA&M should include specific deadlines for each action item to ensure that progress is being made toward achieving compliance.
In addition to the POA&M, organizations should also develop a System Security Plan (SSP). The SSP is a documented approach that outlines the security controls in place to protect sensitive information. The SSP should describe the organization's IT infrastructure, identify all components that support CUI, and detail the security controls in place to protect that information.
Overall, preparing for CMMC certification requires a comprehensive approach to cybersecurity that includes a detailed self-assessment, a clear roadmap for achieving compliance, and strict adherence to the CMMC requirements. By following these guidelines, organizations can ensure that they are fully prepared for the certification process and are equipped to protect sensitive information in the aerospace industry.
Implementing CMMC Practices and Processes
It is important to note that implementing CMMC can be a complex process, and it may be beneficial to seek the assistance of a CMMC consultant or assessor. However, implementing technical controls and developing policies and procedures can help you implement CMMC practices and processes effectively and efficiently.
Technical Controls
Implementing the technical controls required by the CMMC will involve a range of actions, such as ensuring that all hardware and software are updated and patched, deploying firewalls and antivirus solutions, and implementing multi-factor authentication (MFA).
Policy and Procedure Development
Organizations will need to create and update policies and procedures to align with CMMC requirements. These documents should clearly outline the roles and responsibilities of employees, as well as the processes in place to maintain compliance.
Engaging a CMMC Third Party Assessor Organization (C3PAO)
Selecting a CMMC Third Party Assessor Organization (C3PAO) is an important decision for organizations seeking CMMC certification. The selection process should be based on the C3PAO's reputation and experience in conducting similar assessments. Organizations should review the C3PAO's credentials, certifications, and references to ensure they have the necessary expertise to assess their cybersecurity controls. It is crucial to select a C3PAO that is accredited by the Cybersecurity Maturity Model Certification Accreditation Body (CMMC-AB) to ensure the validity of the assessment.
Preparing for the CMMC Assessment
To prepare for the CMMC assessment, organizations must gather all relevant documentation and evidence of implemented technical controls. This documentation should include policies, procedures, and any other supporting documentation that demonstrates compliance with the specified level of certification. Organizations should also ensure that employees are prepared to answer questions and demonstrate their understanding of cybersecurity practices. It is essential that all personnel understand the CMMC requirements and have knowledge of their organization's cybersecurity posture. This enables them to provide accurate and detailed answers during the assessment process.
Organizations should also ensure they have established effective cybersecurity practices to comply with the CMMC requirements. This includes implementing technical controls such as access control, system integrity, and incident response. It is also necessary to develop and enforce policies and procedures to ensure compliance with the CMMC standards. The preparation process should be thorough to ensure a successful assessment and certification. Understanding the requirements and preparing for the CMMC assessment are critical in achieving a successful certification.
Achieving and Maintaining CMMC Certification
Once an organization has successfully completed the assessment process and addressed any identified deficiencies, they will be awarded CMMC certification for their achieved maturity level. This certification is valid for three years.
Continuous Compliance and Improvement
Maintaining CMMC certification requires ongoing commitment to cybersecurity practices and processes. Organizations should regularly review and update their policies, procedures, and technical controls, as well as continually train and reinforce cybersecurity awareness among employees.
How Aerospace Companies Can Use Kiteworks to Accelerates Their CMMC Level 2 Compliance
Achieving CMMC certification is a critical step for aerospace organizations seeking to work with the DoD, as it demonstrates their commitment to upholding robust cybersecurity standards and protecting the Defense Industrial Base (DIB) information supply chain. By understanding the CMMC framework, assessing their current cybersecurity posture, and implementing the required practices and processes, aerospace companies can effectively navigate the certification process and safeguard their systems and sensitive content from potential threats.
When it comes to CMMC 2.0 Level 2 compliance, Kiteworks supports nearly 90% of the 110 practice controls. One of the reasons this is the case is tethered to Kiteworks' FedRAMP Authorization for Moderate Level Impact that includes a single-tenant virtual private cloud for all processing and comprehensive reporting and audit trails across all content communication channels—email, file sharing, managed file transfer, web forms, and application programming interfaces (APIs). Kiteworks' hardened virtual appliance provides multiple security layers that dramatically reduce vulnerability exploit and impact severity using an embedded network firewall and WAF, zero-trust least-privilege access, AI-based anomaly detection, advanced intrusion detection and alerts, and zero-day threat blocking.
All of this means aerospace companies have assurances that their file and email data communications are protected internally and with third parties. For more detail, schedule a custom-tailored demo today.
Additional Resources