A Guide to TPRM | Third-Party Risk Management
TPRM is an important area of cybersecurity for all organizations that do business with outside vendors; it can even prevent breaches if done correctly.
What is TPRM? Third-party risk management is a process that analyzes and controls third-party vendors and their possible security risks to mitigate issues before a breach or incident occurs.
What Is Third-Party Risk Management?
In 2020, hackers were able to insert malicious code into the software systems of SolarWinds, a major cloud services and Software-as-a-Service (SaaS) provider. This code propagated throughout the company's network administration system, Orion, and compromised not only internal technologies but those of their clients as well. As knowledge of the breach became public, companies like Microsoft, FireEye, and Experian, along with government agencies like the Department of Homeland Security, all users of Orion, reported that they had been compromised.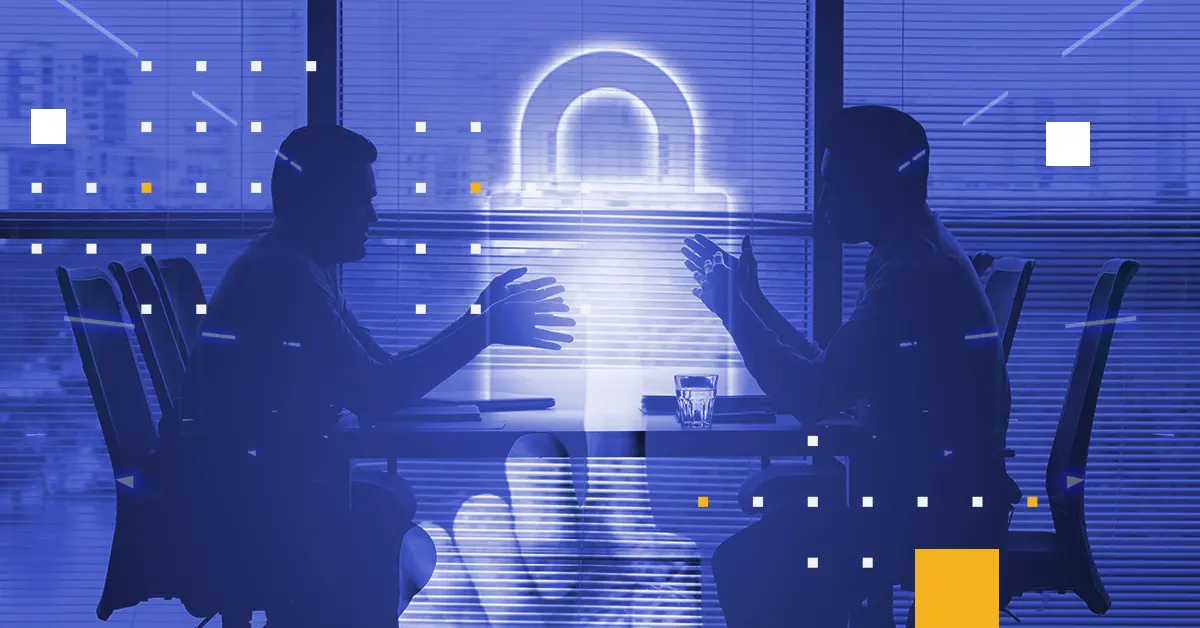 Data-driven platforms, machine learning, artificial intelligence, cybersecurity, and analytics—all of these increasingly critical functions are shaping how organizations leverage data and communication channels to reach customers and stakeholders, build products, and maintain the integrity of their technical systems.
However, because these functions are so complex, it is usually too difficult for a single business or organization to implement them independently. They require sophisticated cloud environments, machine learning and analytics platforms, cybersecurity tools, and other software and hardware configurations that are, on their own, often too expensive for a single organization to implement and maintain.
Accordingly, there has been a significant rise in the role of third-party vendors. Vendors can supply nearly anything that an organization needs to augment its operational capacity. These vendors provide everything from cloud infrastructure, managed security, and advanced cloud computing and software platforms as dedicated services that businesses use as needed through subscription or contract agreements. Managed services through a third-party vendor are often less expensive to use than on-premises solutions without sacrificing effectiveness.
But there is a downside to using third-party vendors: third-party risk.
When an organization works with a third party, it introduces security risks. "Risk," in this context, is not just the literal risk of a breach or attack. Instead, risk is a metric of the relationships between existing security measures and potential threats. Risk is something that a business measures to determine the types of security measures and technology they will adopt to protect system resources. Third-party technology, while useful from a business context, also introduces new levels of risk into a client's systems.
One of the main issues is that third-party vendors are not subject to direct management or client oversight. They build and maintain their own systems and hire their own staff. This is part of their value proposition and the space where potential risk is introduced into client infrastructure.
Therefore, TPRM is the practice of recognizing, measuring, contextualizing, addressing, and (if necessary) mitigating risks introduced by working with third-party vendors. More importantly, this practice refers to an organization's steps to understand and work with the potential risks that a third-party vendor may bring to the table.
Features of TPRM
TPRM is a broad term and businesses may define it differently; however, most TPRM programs contain a finite set of key principles, including:
Risk Identification and Assessment: TPRM provides the capability to identify, assess, and prioritize risks related to information assets and activities.
Process Management: TPRM ensures that processes are in place and functioning properly in order to reduce risk to acceptable levels. Through automated workflow and process management features, TPRM allows organizations to streamline their operations and ensure that the correct steps are taken to mitigate risks.
Reporting: TPRM provides comprehensive reporting capabilities that provide visibility into the risk profile and performance of the organization. Through customizable reports, executives and managers can quickly identify risks and make informed decisions on how to reduce them.
Monitoring and Auditing: TPRM supports continuous monitoring of threats and vulnerabilities, as well as automated auditing of system configurations and processes. This allows organizations to maintain a secure environment and be proactive in addressing risks before they become a problem.
Compliance: TPRM enables organizations to meet regulatory and compliance requirements such as ISO 27001, PCI DSS, and HIPAA by providing automated and flexible compliance management features.
Incident Management: TPRM provides visibility into security incidents, allowing organizations to respond faster and more efficiently to any threats or vulnerabilities. Through incident classification, escalation, tracking, and resolution features, TPRM ensures that risks are addressed quickly and professionally.
Why TPRM Policies Are Important
These key features provide organizations a framework for developing a comprehensive TPRM program. Businesses can now develop TPRM policies to ensure their third-party partners comply. TPRM policies are important for organizations of all sizes, as they provide an important layer of defense against potential cyber threats. These policies provide comprehensive guidelines outlining the responsibilities of organizations and their staff in order to protect their systems and data. By creating and implementing a TPRM policy, organizations can effectively reduce the risk of cyber threats and protect their confidential data. Additionally, TPRM policies are key to ensuring compliance with applicable legal and regulatory requirements.
How Do Third-Party Vendors Introduce Risk?
No IT system is 100% secure, and as such, no system is without some level of risk. This is especially true when an organization hires an outside party to integrate services into existing infrastructure.
Because a client organization does not have full control over its vendor's infrastructure, different vectors introduce potential risk into the system. These include the following:
Cybersecurity: As exemplified by the SolarWinds attack, spillover security threats are a real problem for vendor-supplied IT solutions. The breach of a cloud service or system can propagate into connected services and threaten all clients' data. It is important to note that breaches are not just the result of negligence or error. Complex cloud systems are inherently vulnerable; their interconnectedness is itself a source of risk.
Compliance: Closely related to cybersecurity, compliance risks abound with third-party relationships. Compliance regulations will govern how you manage client, customer, or partner information, and introducing a third party to help manage that data presents risks of noncompliance. Frameworks and regulations like FedRAMP, Health Insurance Portability and Accountability Act (HIPAA), and General Data Protection Regulation (GDPR) even have specific liability laws addressing third-party relationships.
Insider Threats: Insider threats are a real problem in almost every industry. Unfortunately, third-party vendors introduce the potential risk of insider threats because they hire and vet their own employees. A threat from these teams could have a significant impact on their clients.
Spear Phishing: Phishing is one of the most widespread forms of security attacks globally. Vendor relationships add a new layer of challenges to mitigating phishing attacks because they introduce new ways hackers can spoof their way into a system. A phishing attack on a vendor can open up your systems to vulnerabilities, and hackers can use spoofed email addresses to target critical people in your organization for spear-phishing attacks.
Reputation: Reputational issues are a real, if somewhat fuzzy, part of third-party relationships. Even if a vendor incident doesn't impact your overall operations, negative press from such a vendor can affect your reputation. Maintaining brand reputation is an essential part of managing third-party risk.
Because these vendors can introduce risk into a system, many enterprises integrate third-party management into their overall portfolio. Without doing so, they may have an inaccurate or distorted understanding of the vulnerabilities they face, how that risk informs IT and compliance decisions, and the vulnerability of the systems.
What Is a Third-Party Risk Management Platform?
Since TPRM is such a complex undertaking and organizations should have an accurate, real-time understanding of third-party risk, a wave of TPRM platforms and solutions have entered the market.
TPRM platforms are typically cloud-based solutions that combine several assessment tools into a single package that unifies automation, vendor assessment, vendor monitoring, workflow tools, and remediation management.

There is a lot to unpack here, so it may help to break down these components:
Vendor Risk Assessment: One of the most essential services TPRM solutions bring to an organization is increasing the visibility of issues in vendor relationships. A cloud platform plugged into a given IT system can run comparative analytics on compliance issues, documentation, and potential threats introduced by interoperating software or hardware. For example, if a vendor offers application programming interface (API) integration between their platform and mobile applications or email, a TPRM solution could analyze that risk and provide alerts and suggestions.

Furthermore, these solutions provide actual metrics and ranking systems to help coordinate management across an organization. With a bird's-eye view of a company's risk profile, decision-makers can focus on third-party risk as it fits into an organizational compliance or security strategy.

Assessment tools can also help companies build a vendor risk ranking. While what constitutes a "high risk" may shift based on context, most companies can use combinations of factors like IT configurations, compliance standards, contract reviews, staff and employee screening procedures, brand history, and professional background checks to compile rankings based on internal metrics.

Vendor Risk Monitoring: A management solution should have monitoring tools. While it might seem counterintuitive to think about monitoring vendors through a digital platform, TPRM software can help organizations create and implement metrics and shared resources, require documentation and reporting, and track operational performance. Organizations can more readily streamline vendor management for assessment and compliance requirements through a continuous monitoring tool.
Automation and Workflow: Vendors can change configurations and software. Contracts come up for renewal. Operations and business goals evolve over time. A TPRM solution can help both a business and its vendors automate critical operations as these changes occur. These automated processes can include contract reviews, documentation updates, or even setting up meetings when system configurations change. It is crucial to emphasize that as relationships change, assessment will be part of that change. Even a small adjustment to infrastructure or underlying technology on the part of a vendor can have a significant impact on a client's risk profile. Furthermore, automating contract reviews annually can support client businesses by evaluating necessary management procedures like monitoring, audits, and required reporting.
Remediation: If a vendor experiences a breach, any affected clients must stand ready to react with swift remediation. TPRM can support alerts and remediation using analytics to offer solutions that can isolate security issues, minimize any exposure to threats, and evaluate any next steps to solve the issue.
Across all of these categories, organizations must recognize the role of organizational risk management as a component of TPRM. There is simply no way to accurately assess vendor risk unless there is already a management plan in place for an organization. Fortunately, supply chain risk management is a major topic in cybersecurity and compliance. Most frameworks like GDPR , HIPAA , and FedRAMP have some controls discussing the implementation of supply chain assessments. Additionally, the National Institute of Standards and Technology (NIST) has published Special Publication 800-161, which specifically addresses standards and best practices in supply chain management .
In all of these cases, regulators and those establishing guidelines concur on the need to create a vendor management policy. These policies are rules and procedures an organization puts into place to monitor vendors and changes to vendor relationships. Such policies can include contract reviews, continuous monitoring, background checks, and automated audits based on vendor technology or policy changes.
Additionally, a TPRM solution should include ways for businesses to identify and avoid risky vendor relationships. Sometimes, vendor's can change brand names or ownership, which can hide evidence of past issues with security, maintenance, or public image. These solutions might offer methods to monitor vendor behavior or automate processes for vendor audits and contract assessments.
To develop TPRM practices and procedures, organizations can obtain TPRM certification. One of the most reputable certifications in the industry is the CTPRP Shared Assessments Risk Certification, which covers both general and third-party risk assessment.
Buying Considerations for TPRM Solutions
Businesses in the market for a TPRM solution should consider some key criteria, including:
Compliance Requirements: Organizations should ensure that their TPRM solution meets any applicable compliance and regulatory requirements, such as those required by PCI DSS, GDPR, NIST, or HIPAA.
Security Standards: Organizations should look for TPRM solutions that adhere to the latest industry security standards and protocols, such as those issued by the International Organization for Standardization (ISO) or the Cybersecurity Framework (CSF).
Data Privacy: Organizations should look for TPRM solutions that provide enhanced data privacy and data protection features, such as encryption, two-factor authentication, and access control.
Automation: Automation features are essential for organizations looking to streamline their TPRM processes. Automation can help reduce manual effort, speed up time to compliance, and improve efficiency.
Scalability: TPRM solutions should be scalable and flexible to support an organization's changing needs. Organizations should look for solutions that can accommodate their current and future growth.
Third-party Partners: Organizations should look for solutions that allow them to easily manage and monitor the security of their third-party partners.
Cost: TPRM solutions vary in cost, so organizations should look for solutions that offer the features they need at a price they can afford.
Risk Management Is Critical to Third-party Vendor Relationships
Third-party vendors can introduce significant risk into your organization, and it is up to your cybersecurity and compliance teams to identify, measure, and monitor that risk. Due diligence as to the technical and administrative capabilities is a necessary part of doing business. Fortunately, solutions exist to support such efforts, and with the strategic use of TPRM platforms and risk management practices, most organizations can avoid most major third-party issues.
If you want to learn more about how content governance and data management can support your TPRM efforts, make sure to read our eBook on Conquering Cyber Risk in Third-party Communications. And, if you are interested in the Kiteworks platform, schedule a demo with a member of the Kiteworks team.
Related Content:
Why Does Your Business Need Vendor Risk Management?
What are the Top Third Party Risks?
What is Enterprise Content Management?
What is an IRAP Assessment?
What Is An Enterprise Content Management System?
Back to Risk & Compliance Glossary
SUBSCRIBE
Get email updates with our latest blogs news