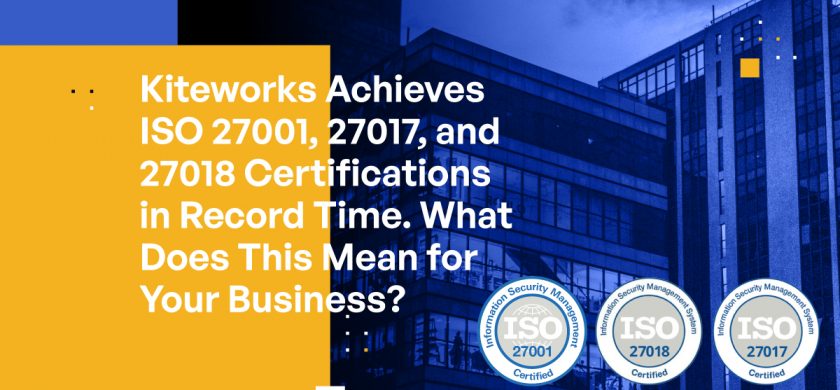 Kiteworks Achieves ISO 27001, 27017, and 27018 Certifications in Record Time. What Does This Mean for Your Business?
Cybersecurity is a major concern for organizations of all sizes, especially when it comes to managing sensitive information in the cloud. According to IBM, the average cost of a data breach in 2022 was $4.35M. To ensure that their data is protected, organizations must choose a solution that meets the highest standards for information security. That's where Kiteworks comes in; a company that has achieved ISO 27001, 27017, and 27018 certifications in record time.
These certifications demonstrate Kiteworks' commitment to providing the best solutions for cloud content management and ensuring the security of sensitive information. They are a testament to the company's commitment to meeting the highest standards for information security and to providing a secure and efficient solution for organizations to manage their data in the cloud. In this blog post, I will dive into what these certifications mean, why they are important, and how Kiteworks is providing the best solutions for a holistic cybersecurity posture.
Need for Information Security Management
The need for Information Security Management is on the rise. As organizations become increasingly connected, the necessity of protecting sensitive information becomes paramount. Companies must develop systems that ensure the safety and integrity of their sensitive data and communications, while also adhering to international standards and regulations.
Organizations use information security systems that enable them to effectively manage risk in every send, share, receive, and save of sensitive content. The Kiteworks Private Content Network (PCN) delivers content governance, compliance, and protection to organizations to help them meet their security and compliance requirements.
What Are ISO 27001, 27017, and 27018 Standards?
ISO 27001, 27017, and 27018 are international standards for information security management. They provide a comprehensive framework for organizations to manage their sensitive information, including access control, audit and accountability, awareness and training, configuration management, identification and authentication, incident response, security assessment, and system and information integrity.
ISO 27001
ISO 27001 is the international standard for information security management. It provides a systematic approach to managing and protecting sensitive information by implementing and maintaining an information security management system (ISMS).
ISO 27017
ISO 27017 is the international standard for cloud security. It provides guidelines for organizations to manage and secure sensitive information stored in the cloud, and covers a wide range of security controls, including access control, incident management, and security assessment.
ISO 27018
ISO 27018 is the international standard for privacy in the cloud. It provides guidelines for protecting personal data stored in the cloud and covers areas such as data protection, data retention, and data destruction.
In today's fast-paced and rapidly changing digital landscape, it is more important than ever to choose a solution that meets the highest standards for information security. With these certifications, organizations can be confident that they are choosing a solution that is secure and efficient, and that will protect their sensitive information from threats such as data breaches, cyberattacks, and unauthorized access.
Achieving Cloud Security Through a Private Content Network
Organizations that use cloud services should ensure that they are compliant with ISO 27017 in order to ensure their data is secure. Utilizing the Kiteworks Private Content Network and advanced security measures available with ISO 27017, organizations can ensure that the data remains in their control and is secure from malicious actors. The Private Content Network utilizes encryption, zero trust, and hardening to protect the data from malicious actors.
In addition to these measures, advanced security measures should also be implemented to protect the data. Examples of such measures include two-factor authentication, restricted access to data, and privilege management. Implementing these security measures will help organizations achieve cloud security and protect their sensitive data while using cloud services.
Getting a Third-party Organization to Help You in Your ISO 27001 Certification Journey
When it comes to complying with the ISO 27001 standard, businesses need to take the appropriate steps in order to ensure they are meeting the requirements. One of the key steps a company should take is to seek out a third-party organization to help them with the certification process.
By working with a knowledgeable third-party organization, companies can benefit from the expertise these organizations can provide. This is especially helpful when it comes to ISO 27001 compliance, as it has multiple sections and components that need to be implemented in order for the standard to be met. These organizations can provide the guidance and expertise needed in order to ensure all the requirements are met and maintained.
Benefits of Using Kiteworks to Obtain ISO/IEC 27001 Certification for Your Business
Kiteworks allows organizations to streamline the process of achieving ISO/IEC 27001 certification. Kiteworks makes it easier for companies to establish, document, and manage a comprehensive PCN in order to meet the requirements of this regulation.
By utilizing the Kiteworks platform, organizations can benefit from system-wide automated compliance, policy creation and enforcement, and reporting functions. With Kiteworks, organizations can maintain compliance by defining security policies and requirements, enforcing data access policies, and tracking access to sensitive data. Kiteworks delivers a PCN that helps organizations to monitor changes to files and alert security staff of any activities that may be suspicious or at risk.
Kiteworks also helps organizations reduce the complexity of meeting the requirements of ISO/IEC 27001 by automating key processes and providing a single, unified platform for managing compliance.
Kiteworks provides a secure, efficient, and cost-effective way to manage, and store information. Not only does Kiteworks provide an organizational structure to the process of achieving ISO/IEC 27001 compliance, but it also helps to ensure that organizations are resilient to cyberattacks. As a result, organizations that use Kiteworks can reduce the risk of data breaches and leaks, and ensure that all data is protected to the highest standards.
Schedule a custom demo of Kiteworks to see how it works and to learn more about how it provides the framework for organizations to get ready for certification.
Additional Resources