Introduction to the Japanese Act on the Protection of Personal Information (APPI)
Around the world, governments are becoming increasingly active in their efforts to impose more robust regulations designed to protect the personal information of their citizens. This global trend reflects a heightened awareness of the importance of data privacy, and the significant risks associated with data breaches and other forms of cybercrime.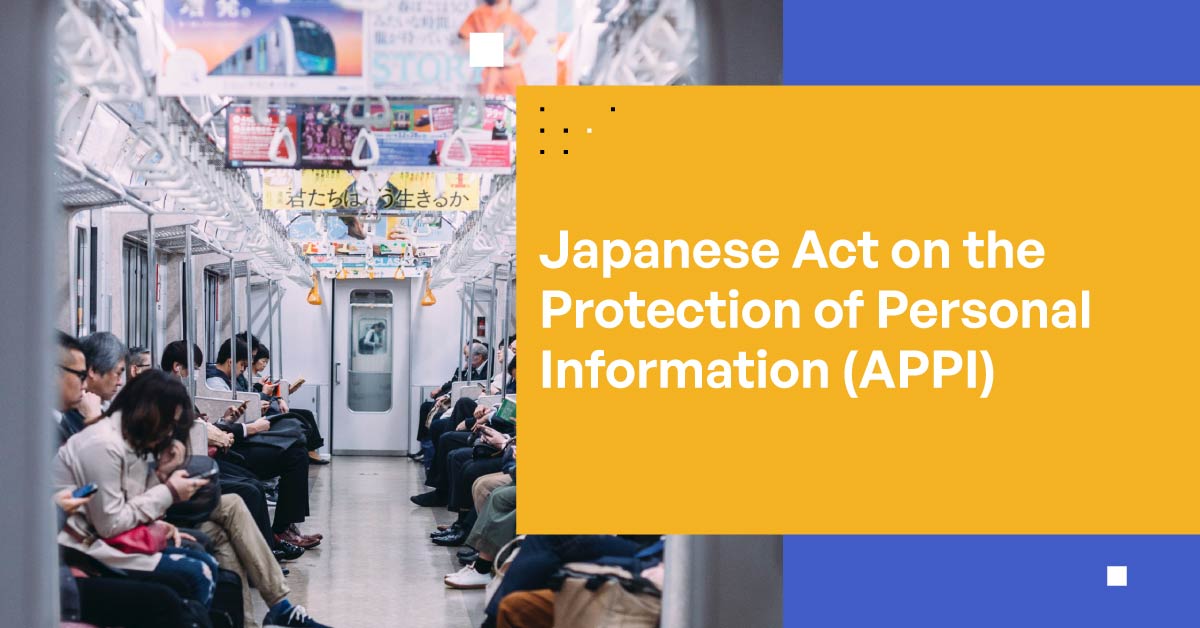 A particularly important piece of legislation in this respect is Japan's Act on the Protection of Personal Information (APPI). This landmark legislation represents a clear indication of Japan's commitment to maintaining tight control over the use, collection, and dissemination of personal data. APPI provides a clear and detailed framework for businesses and other organizations to follow, ensuring that they handle personal data in a responsible and legal manner. In this article, we'll take a deeper dive into the APPI, its origin, benefits, implications for businesses and citizens, compliance requirements, and consequences for noncompliance.
Overview of APPI
The Japanese Act on the Protection of Personal Information (APPI) was first enacted in 2003, then revised in 2015, and is expected to undergo further changes in 2023. It was enacted in response to increasing concerns about the misuse of personal information in the age of digitalization, and became the first comprehensive law in Japan to protect personally identifiable information (PII).
Like citizens in other countries, data breaches have had profound impacts on Japanese citizens and consumers. In Japan, there was growing concern over companies' lack of comprehensive data protection measures, resulting in violations of personal privacy. In response, APPI established robust guidelines to ensure adequate protection. APPI represents Japan's commitment to safeguard individuals' data and instill consumer confidence. Accordingly, APPI imposes strict standards on businesses handling personal data, directing them to maintain high levels of data security and privacy.
APPI aims to protect the rights and interests of individuals by regulating the handling of personal information. It provides general principles concerning the handling of personal information, establishes the Personal Information Protection Commission (PPC), and sets penalties for violations.
Key Provisions of APPI
APPI's primary objective is to ensure the rights and interests of individuals are respected while considering the utilization of personal data in the advancement of the economy and society.
The key provisions of APPI involve the definition and classification of personal information, the rules for handling such information, and the rights of the data subjects. The law defines "personal information" as any information related to a living individual which can identify the specific individual by name, date of birth, or other description contained in such information. Further, it classifies certain personal information as "sensitive" (e.g., race, religion, health, etc.), subjecting it to more stringent handling procedures.
Under APPI, businesses must obtain an individual's consent before collecting, using, or providing their personal information to third parties. This rule extends to sensitive information. Individuals also have the right to request disclosure, correction, or deletion of their personal information. Noncompliant businesses can face penalties, including fines and imprisonment.
APPI also sets out provisions for international data transfer. Businesses wishing to transfer personal data outside Japan must ensure that the receiving country has a comparable level of data protection. Additionally, the individual's consent must be obtained for such a transfer.
How APPI Benefits Organizations
APPI affords significant benefits to organizations that do business with Japanese citizens. First, it provides clear guidelines for businesses on how to handle Japanese citizens' personal information, which can reduce the risk of data breaches and increase trust with customers. It also promotes transparency and accountability in the use of personal information, which can enhance an organization's reputation.
Moreover, APPI is applicable to any business operator who uses personal information within the geographical boundaries of Japan, regardless of their nationality. This sweeping coverage aims to ensure fairness in the marketplace by requiring all businesses, foreign and local, to abide by the same regulations. Noncompliant businesses that disregard these rules risk facing penalties, thereby placing compliant businesses at a competitive advantage.
Businesses that adhere to these regulations not only avoid penalties but also gain the trust of consumers concerned about personal data protection. This adherence to data protection regulations can cultivate consumer loyalty, enhance a company's reputation, and eventually increase business profitability. Therefore, compliance with APPI should not be seen as a burdensome cost but rather as a strategic investment. Adherence to APPI guidelines could yield considerable returns in the form of legal protection, ethical credibility, and an improved reputation.
By complying with APPI, businesses demonstrate their commitment to privacy, fairness, and the ethical use of personal information, which can significantly improve its standing in the eyes of both customers and other businesses.
How APPI Benefits Consumers and Citizens
APPI provides vital protection to the consumer and citizens' PII. It obligates businesses to obtain explicit consent from individuals before collecting, using, or transferring their personal data. In other words, it confers control of personal information squarely on the individual, who decides whether or not their personal data can be accessed and used.
In addition, APPI also affirms the individual's right to request the disclosure of their data, along with the ability to demand corrections and restrict the usage of their personal information. This significantly bolsters their right to privacy, given that they can choose to have erroneous data rectified, control how it's used, or even halt its use altogether.
In terms of the broader societal implications, APPI plays a crucial role in regulating the manner in which personal information is handled across the system. By imposing stringent rules and procedures on businesses, APPI ensures that the integrity and security of personal data are upheld. This aids in fostering a safe and secure environment for the handling and exchange of information, thereby contributing significantly towards creating a secure information society in Japan.
Compliance Requirements Under APPI
In order to comply with APPI, organizations are required to meet an array of comprehensive requirements.
One of the primary requirements includes implementing necessary and proper measures. These measures should help in avoiding the leakage, loss, or even damage of personal information that they handle, which often contain sensitive data.
Also, if an organization wants to collect personal information from individuals, it must first obtain the consent of the individual. This process helps to ensure that individuals are aware of what their information is being used for, and that their rights are being respected. APPI emphasizes transparency and respect for personal autonomy in the handling of personal information.
In addition, APPI necessitates that personal data, when transferred to a third party, whether domestic or international, is appropriately protected. This aims to prevent unauthorized access or use of data by the third party, as well as to provide for the possibility of stopping data transfer if required.
APPI mandates that in case an organization encounters a data breach, the organization is required to notify the Personal Information Protection Commission (PPC) promptly. This ensures that the PPC is able to act appropriately to address the breach and take necessary action to prevent further data damage.
Organizations also have an obligation to establish a formal and effective complaint handling process. This will not only help address the grievances of those whose personal information they handle, but also helps demonstrate the organization's commitment to the principles of personal information protection.
In addition to these requirements, organizations are expected to educate their employees on the importance of personal information protection. This would involve regular training sessions, workshops, and updating employees about any changes in the laws concerning personal data protection.
Lastly, APPI requires that the organization regularly evaluate, monitor and revise its personal information protection measures to ensure they remain effective and meet the evolving standards of personal data protection law. It underlines the need for constant vigilance and proactive measures to ensure continued compliance with the APPI.
Risks of Noncompliance With APPI
Noncompliance with APPI can lead to serious repercussions for businesses. Any disregard or violation of APPI can result in a variety of negative outcomes. These repercussions can range from administrative sanctions to penalties of a more serious nature.
Administrative sanctions may take the form of cease and desist orders from the Personal Information Protection Commission (PPC). This implies that the PPC may order the business to halt its operations until it properly complies with APPI.
Another form of administrative sanction can be disclosure orders, where the PPC may mandate the noncompliant business to publicly disclose their violations.
Penalties can also include imprisonment or hefty fines. This means that key individuals within the business might be put behind bars or the business might have to suffer considerable financial losses, both of which can be crippling for an organization.
Furthermore, noncompliant businesses risk damaging their reputation, a crucial element in the business landscape. This could result in customers distrusting the business, leading to a significant loss of customer base.
Additionally, affected individuals may take legal actions against the business, leading to further legal complications and financial expenses.
In summary, failure to comply with the APPI is not just a question of legal and financial risks. It can also lead to a significant loss of competitiveness in the market. Being marked as noncompliant can create a significant competitive disadvantage. This could severely affect sales and profitability in the long run, potentially endangering the business's survival. Therefore, adhering to APPI is not just a legal necessity, but a strategic one as well.
The Role of the Personal Information Protection Commission (PPC)
APPI took a significant step in data protection by establishing the Personal Information Protection Commission (PPC), an entirely independent government body. This body was given the crucial task of enforcing the regulations embedded within the Act. The PPC, thus, stands as a cornerstone in ensuring the correct handling of personal information.
The PPC pursues this mandate by conducting thorough investigations into complaints, providing sound advice to businesses on data protection, and exercising its power to impose administrative sanctions in situations where the stipulations of the Act are violated. As such, it wields considerable control and influence over issues related to data privacy and protection.
The PPC is not restricted within the national boundaries in its role of data protection. It actively promotes international cooperation in the field of personal data protection. The PPC has a significant contribution in the development of global data protection norms and standards, thus extending its influence on a global scale. By considering the comprehensive role of the PPC, Japan's unwavering commitment to the meticulous protection of individual personal data rights becomes clearly visible.
The PPC's functions go beyond merely playing a deterrence role. It proactively addresses the constantly shifting challenges brought forth by the swift progress in information and communication technology. This responsiveness ensures that the APPI regulatory framework remains relevant and effective in the digital age, where the importance and complexity of data protection are amplified.
Kiteworks Helps Organizations Comply With APPI
The Act on the Protection of Personal Information (APPI) positions Japan at the forefront of personal data protection, striking a delicate balance between individual rights and interests and the beneficial use of personal data. By fostering a robust culture of data protection that respects individual personal data rights and ensures transparent and responsible use of such data by organizations, APPI contributes to the development of a safe and secure information society in Japan and beyond.
The Kiteworks Private Content Network, a FIPS 140-2 Level 1 validated secure file sharing and file transfer platform, consolidates email, file sharing, web forms, SFTP and managed file transfer, so organizations control, protect, and track every file as it enters and exits the organization.
Kiteworks deployment options include on-premises, hosted, private, hybrid, and FedRAMP virtual private cloud. With Kiteworks: control access to sensitive content; protect it when it's shared externally using automated end-to-end encryption, multi-factor authentication, and security infrastructure integrations; see, track, and report all file activity, namely who sends what to whom, when, and how.
Finally demonstrate compliance with regulations and standards like GDPR, HIPAA, CMMC, Cyber Essentials Plus, IRAP, and many more.
To learn more about Kiteworks, schedule a custom demo today.
Back to Risk & Compliance Glossary
SUBSCRIBE
Get email updates with our latest blogs news